Settings
The Settings page is where you control the global settings of WP Business Reviews. This includes connecting to Platforms, Advanced settings, managing your License key, and a general Help screen.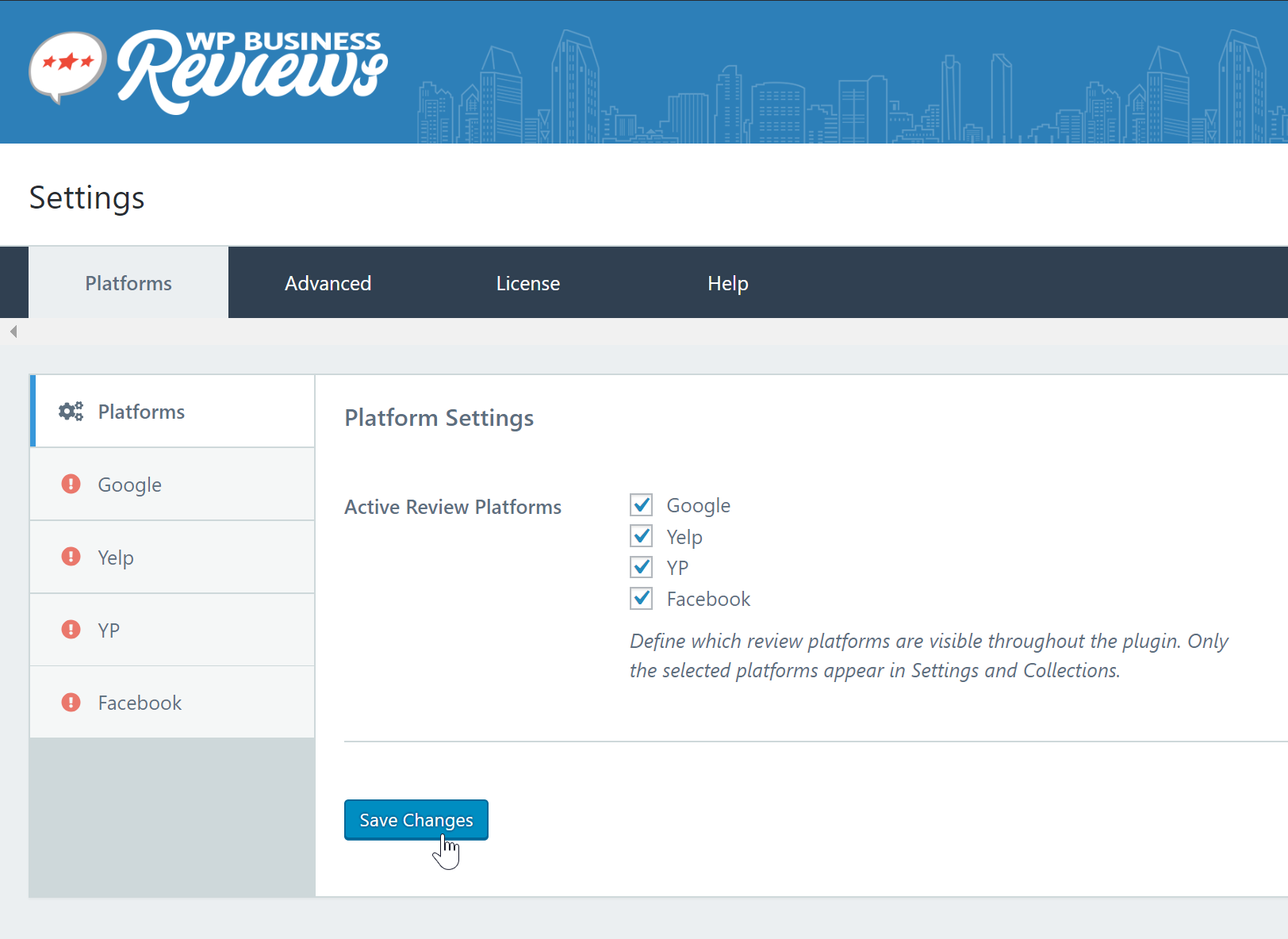 Platforms
The Platforms settings is where you can enable and connect to any of the supported reviews platforms.
On your WordPress dashboard navigate to "Reviews > Settings." Select the "Platforms" tab and choose which review platforms you would like to have available to connect to.
Advanced
The Advanced Settings tab has two settings that affect how your site handles data related to WP Business Reviews.
Automatic Refresh
Options: Disabled, Daily, Weekly (default)
This controls how often WP Business Reviews will check the Platform APIs for any new reviews available that can be pulled into your Collections. See "Refreshing Reviews" for more details on how this impacts your Collections.
Uninstall Behavior
Options: "
This controls what happens when you delete the WP Business Reviews plugin from your website. Keeping this data means you can install WP Business Reviews again at any point and all of your settings, single reviews, Collections are all still available to you. Removing this data means all of those will be deleted from your database upon plugin deletion. Unless you plan to cease using and displaying reviews on your website completely, we suggest that you leave the default "Keep all plugin settings, collections, and reviews" selected.
License
The License settings tab is where you configure your plugin license. In order to receive updates to your WP Business Reviews plugin, you need to enter your license key.
To obtain your license key, log into your WP Business Reviews account page and click the "licenses" icon. Copy the license key you find there.
Next, log into your WordPress website, and navigate to Reviews>Settings. Select the "License" tab, paste your key in the box and activate your license.
Help
The Help tab displays helpful videos and links for using WP Business Reviews and links to our documentation, support, and your account page.