With 2.23 billion monthly users worldwide as of January 2019, Facebook is still the #1 most used social media platform. Keeping this in mind, it makes sense to collect reviews and recommendations there. But, Facebook engagement for Businesses has been increasingly hard recently.
Facebook is used by two-thirds of American adults.
Pew Research Center
Since there are so many people on Facebook every day, your Facebook business page should be an important part of your business's marketing strategy. Not only are there plenty of people to market your business to, but it also has built-in word-of-mouth marketing: Recommendations. We've explained more in-depth why Facebook recommendations are great for your business here.
In general, there are some great ways to leverage your Facebook page for your business. Engaging on Facebook strategically drives Facebook recommendations and ultimately gives your brand a better online reputation. In this article, we'll outline a few key Facebook Engagement strategies meant to bring in more recommendations for your business
Respond to All Recommendations and Reviews
Responding to all of your recommendations and reviews is one of the best Facebook engagement strategies. By commenting, you increase the likelihood that the recommendation will be seen. You're also showing your audience that you really do care. It's at the top of our list on ways to engage your audience on Facebook.
Why? Because if you start a conversation with one of your customers online, they're more likely to return and to tell more friends about your business. It encourages them to go beyond their recommendation and truly connect with the business. If they left a bad review or a negative recommendation, responding to it can be the difference between losing and retaining customers. Find more information on responding to negative reviews in this article.
You can even take your responses a step further and collect data. If you're using Facebook as a customer relationship management system, you can respond privately and keep track of your interactions better. We have more information on how to use Facebook as a CRM, here.
Make Sure the Reviews Tab is Near the Top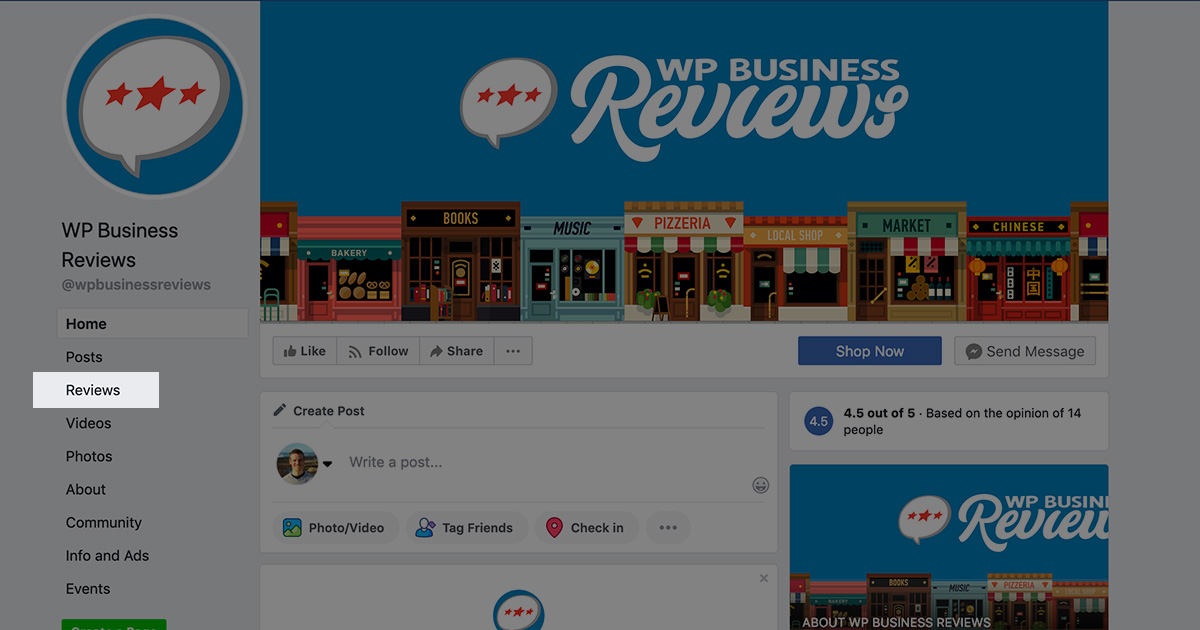 Look at your Facebook page tabs (located on the left side of your Facebook page). Is your Reviews tab there? Is it toward the top of your tabs?
It's important that the Reviews tab is easy to locate for two reasons: it makes it easier for those looking for reviews to find them and those who want to leave a recommendation can do so without too much effort.
To rearrange your tabs, click the "Settings" link above your cover photo. Then choose "Templates and Tabs" from the list on the left. From there you can rearrange the tabs or use Facebook's default template. The default setting puts the Reviews tab in the 3rd tab location, which is a great place for it.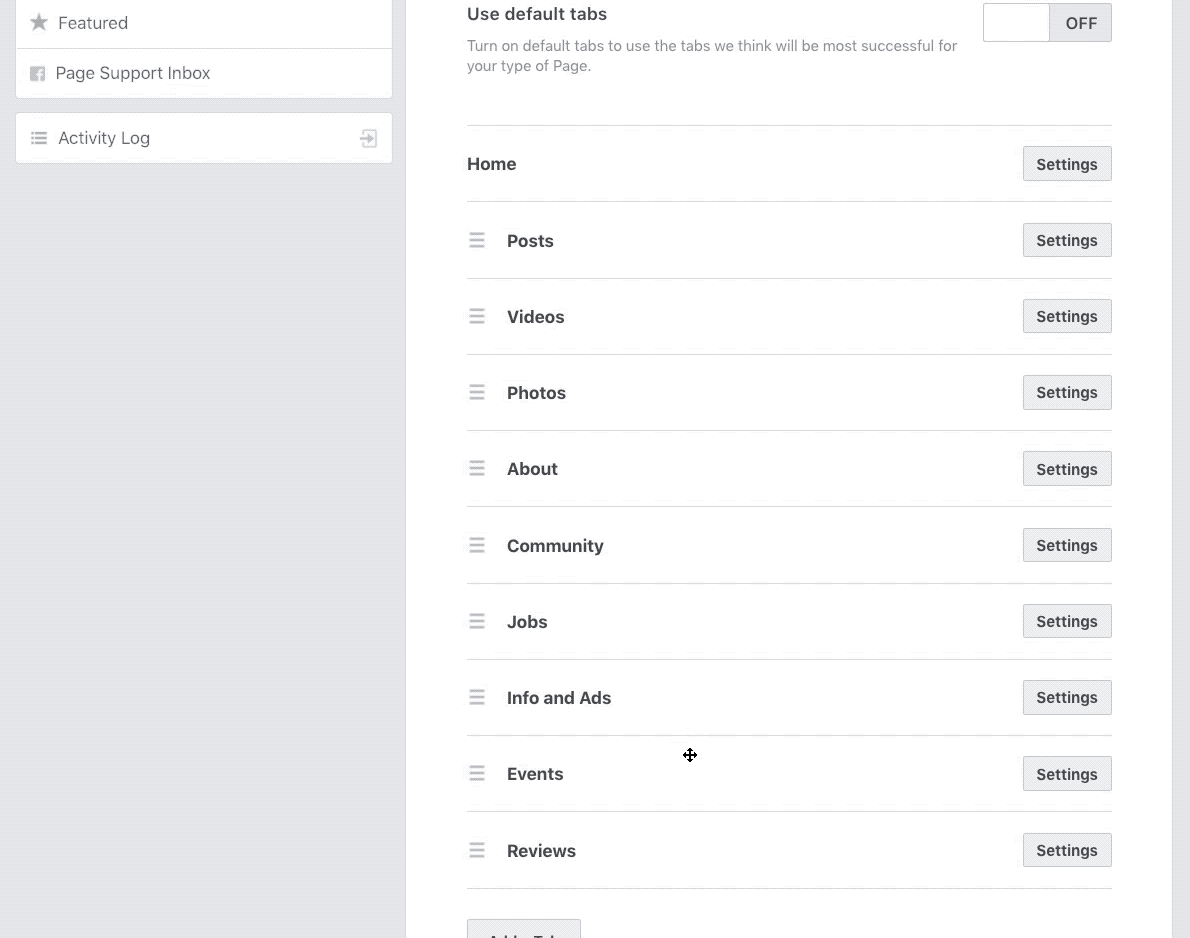 Encourage Check-Ins
Encourage visitors to your location to use the Facebook app to take a photo of themselves in your business and post it with a check-in. Create a sign or sticker for the door suggesting that they check in. If you're a restaurant, entice them with a free drink or a coupon when they show their server their check-in. Retailers might consider keeping some store swag to give to someone who shows you their check in when they check out. Be creative with ways that you can ask your visitors to check in.
When you encourage more check-ins, your business will be at the front of mind for someone on Facebook. When their friends ask for recommendations in the area you're more likely to get tagged as an answer. This generates a new recommendation on your page.
Why ask customers to check in? What happens when they do?
Friends of anyone who does a check in will see it in their timelines, and often will interact with them in the comments below it (especially when accompanied by a photo). Whether or not the check-in results in a Facebook review/recommendation, this kind of interaction is great for business.
About a day after someone checks into a location, Facebook reaches out to them to suggest that they answer questions about your business. Things like "do they have parking?" and "is this a good place to get sandwiches?" Facebook does some of the work for you by reminding them that they came to your business, which will keep you at the forefront of their mind next time they are looking for a business like yours.
As a business, you can see every check-in and can react (like, love, laugh) and reply to each one. Was their check in a positive one? Did they say something good about your business and look happy in their photo? Then share the Facebook recommendation link with them and ask them to leave a review. If you don't know what your Facebook Recommendation link is, we provided some information on how to find it here.
Use Facebook Messenger on Your Website
Recently, Facebook rolled out its Customer Chat Plugin. This enables you to implement chat on your own website through your Facebook Business Page Messenger account. When a site visitor initiates a chat through your website, your page admin account receives a chat notification. You can then not only chat with your site visitor by using Facebook Messenger, but also collect their profile data by using Facebook as a CRM.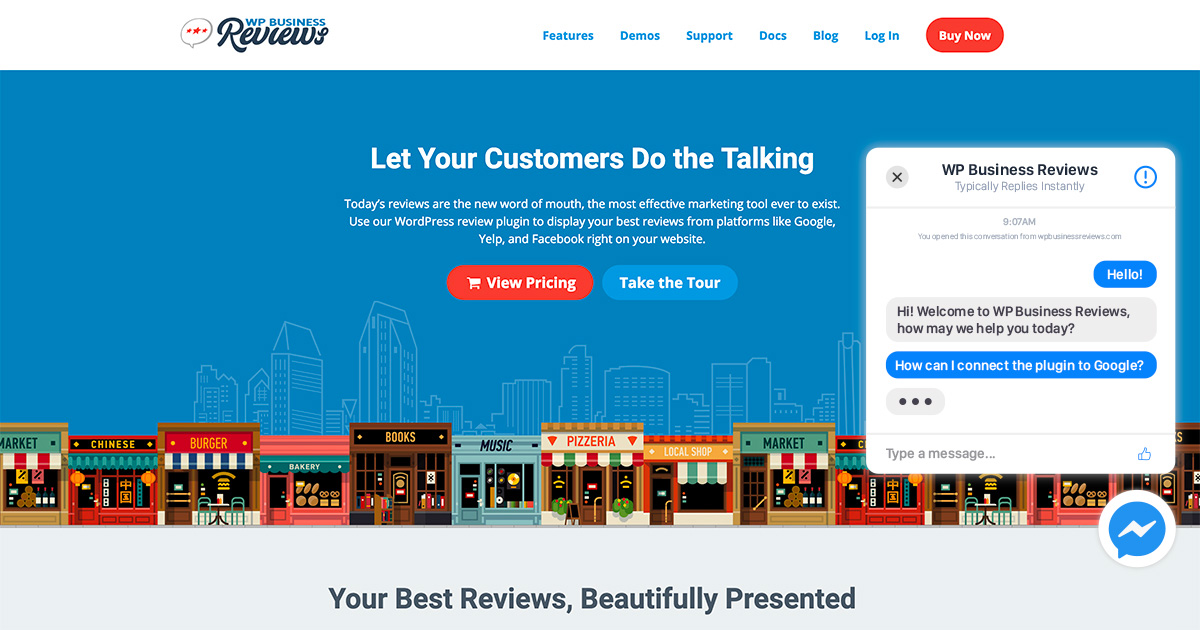 Enabling chat on your site adds a new dimension that creates a more dynamic experience for your users. It's friendly, professional, and inclusive of both deaf and hard of hearing customers. Chat is also crucial to serving the youngest generation, who are more likely to text and interact with a keyboard than place a phone call.
A few things to keep in mind if you use the Customer Chat Plugin:
Make sure that you have someone dedicated to maintaining the chat and responding in a timely manner. It's frustrating to customers when you enable technology and then ignore it. It makes them feel unheard and it renders your brand as unresponsive by displaying poor customer service.
Set realistic expectations for your site visitors. Let them know when you are staffed and when to expect a reply.
Make sure your Messenger hours and auto response settings are properly configured to prevent any miscommunication with customers. Use the auto-responder strategically. Craft a reply that is engaging and represents the tone of your business: friendly, professional, playful, etc.
Using Messenger Chat on your site as part of your Facebook engagement strategy may not drive reviews immediately, but it will become part of your business's persona to your customers and show them you're easy to reach. It creates an overall better customer experience. Great interactions make happy customers. Happy customers are more likely to leave great reviews.
You can also take notes on your interactions and set reminders to follow up with those customers on Facebook Messenger. Ask them how their experience was and if you can help any further. Depending on the answer, send them your Facebook Recommendations link.
Reviews Advice
Subscribe to our newsletter to get advice on generating reviews, review marketing, and more.
Display Your Facebook Recommendations on Your Website
If customers have taken the time to leave you a great review or recommendation, share it. This is marketing gold! As much as you can tell your story and how great your business is, it is exponentially more believable from someone who has been a customer. So make sure to share those reviews. You can do this in a few ways, but the top two are on social media and on your website.
Using WP Business Reviews is the easiest way to do this with style. You can create a Facebook Collection, Tagged Collection, or even use a Single Review (via single review shortcode) to highlight an especially amazing recommendation or review on your site. Here are some display styles you can choose from. Below is a carousel of our best Facebook reviews and recommendations.
In addition to the many ways you can display reviews on your site with standard reviews layouts, you can also customize your galleries using CSS, like the image below.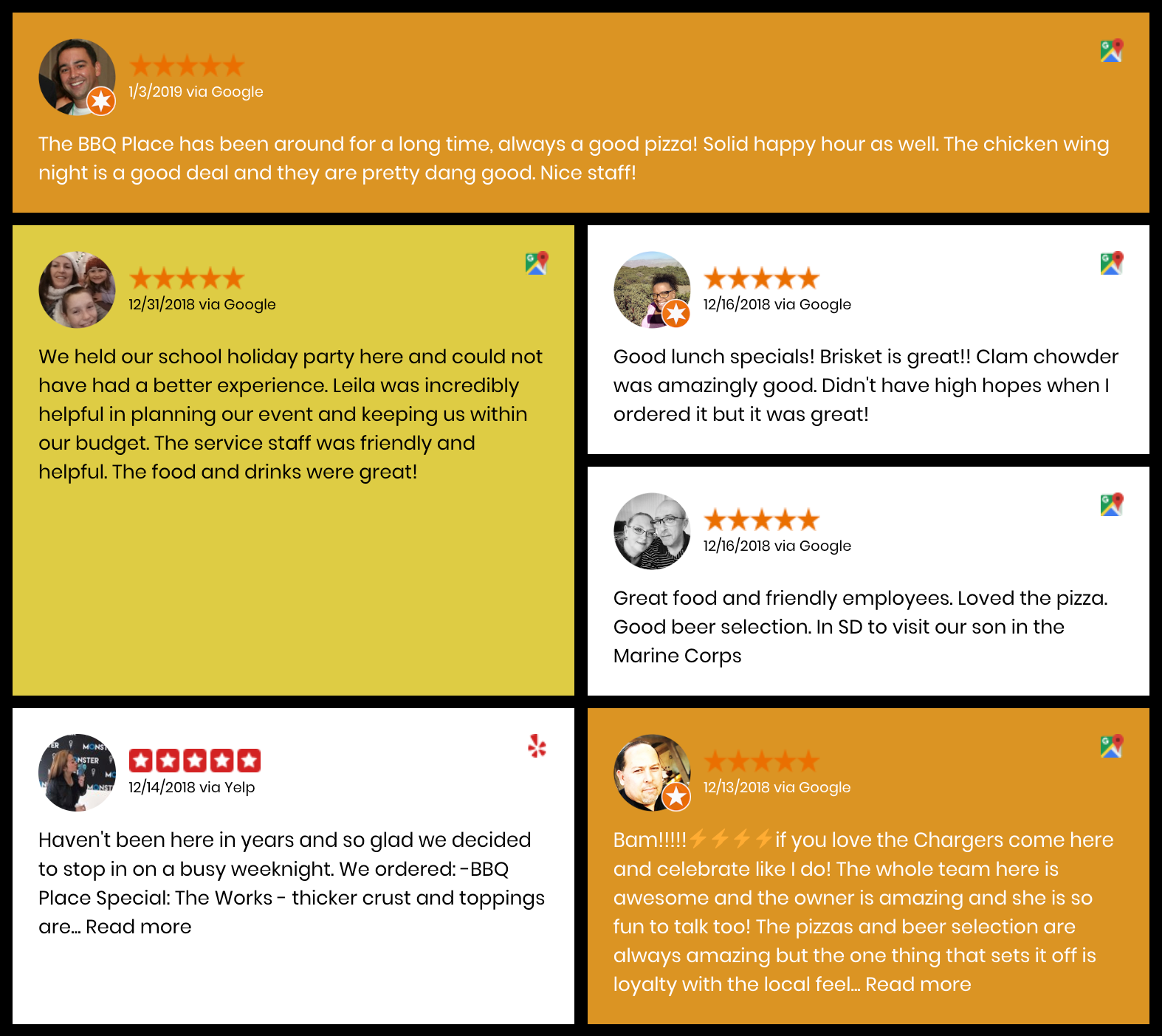 There is primarily one reason that customers leave reviews: they had an exceptional experience. Whether their experience was exceptionally good or exceptionally bad, displaying your reviews on your website shows your customers you value their opinion. This kind of social engagement is likely to produce more reviews because it enhances a customer's overall experience with your business.
How are You Using Facebook to Enhance Your Business?
Tell us in the comments how these strategies have worked for you. We'd also love to hear your ideas for other Facebook engagement strategies to bring in more recommendations and reviews.