Zomato Reviews provide high-quality content generated by the customers who had an impactful experience at your restaurant. We'll show you how to put the best of these reviews on your website, where they matter the most.

Potential customers nearly always turn to a business' website for more information about what an experience there is like. Including reviews from more platforms, like Zomato, shows you really care about what your customers think. It tells them that you take their feedback seriously.

If you're a restaurant of any kind and you're not already using Zomato, chances are that your listing exists anyway. Claim your listings across as many platforms as you can manage to help protect your online reputation. Zomato is a particularly important platform for restaurants because it's used similarly to Yelp. Except Zomato only caters to the food-service industry.

Here's how you can include your Zomato reviews on your website.
Step 1: Get WP Business Reviews if You Don't Have It
To begin, you need a comprehensive way to embed reviews on your website from all platforms. WP Business Reviews does just that. If you already have our reviews plugin, skip ahead to step two.

Our general tutorial on how to put reviews on your website covers how to set up and use WP Business Reviews. Or you can book a demo with our Customer Success Team to learn more in a one-on-one appointment.
Step 2: Connect Zomato Reviews Using the API
Once WP Business Reviews is set up, you can connect to Zomato using their API. You'll need to create your own account on Zomato to get an API key. Once you've done that, add it to your Reviews settings in your WordPress Dashboard.

First, make sure your global Zomato settings are activated. Find the Zomato settings by going to Dashboard > Reviews > Settings > Platforms. From there you can enable the Zomato Reviews global settings. Then choose the Zomato tab so you can enter your API key.
If you need more help, check out our documentation on setting up Zomato.
Step 3: Create a Zomato Collection
Next, head to Reviews > Collections > Add Zomato Collection. On this page you can search for any restaurant to pull in their Zomato Reviews.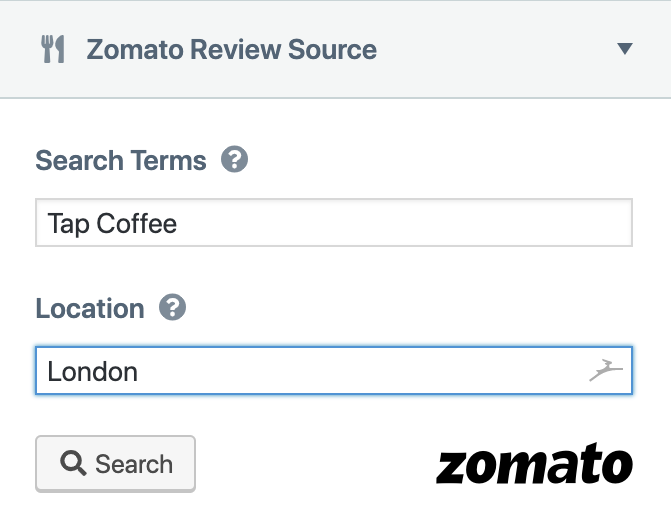 Keep in mind that the Zomato API has limitations. So, you can only pull in the latest five reviews and use the API 1,000 times per day. That means you can only search for 1,000 restaurants on a daily basis. If you exceed 1,000 searches per day on a single site, please get up and stretch a little before you create a new API key.

Even though Zomato only pulls in the latest five reviews, you can always add single reviews and assign the Zomato platform to them. WP Business reviews also provides the option to automatically pull in new reviews on a daily or weekly basis to add your new reviews over time.
Step 4: Choose Your Settings and Save Your Collection
Now that you've pulled in the latest five Zomato Reviews, you can style them however you'd like. In this example, we chose to use the gallery format for a coffee shop Zomato Reviews collection. Each review was limited to only the first 100 characters to save space. We also went with dark mode because we like our coffee black.

Step 5: Add your Zomato Reviews to Your Tagged Collections
Lastly, add your Zomato Reviews to your other tagged collections using tags. It helps to mix your Zomato, Google, Yelp, Facebook, and Custom Reviews together. Mixing up the platforms provides more variety and proves to your customers that you're listening, on all platforms.

Pay Attention to Diners on Zomato
No matter how you choose to include Zomato in your marketing strategy, make sure you're at least paying attention to the reviews it generates. This platform is full of restaurant-goers who take their dining experiences seriously.

If you want to put your Zomato Reviews on your website but you don't have WP Business Reviews yet, book a demo with our Customer Success Team to learn more. They're happy to show you how easy it is to convert more customers using your online reviews on-site.