Harness the power of Google My Business by getting to know every detail of the platform and learning how each tool can benefit your business.
Your Google My Business page is an influential platform to share your business information, both with Google and your potential customers. All too often businesses overlook the importance of having an accurate and maintained Google My Business page. This article will help you understand all that Google My Business has to offer.
Get Started by Completing Your Google My Business Profile.
At this point, you should have already claimed your business listing on Google. If you haven't, follow our instructions for claiming your businesses here. Once you have the basics set up, you can add to it to complete your profile.
To complete your business information, navigate to the info section of your dashboard using the menu on the left side of the screen.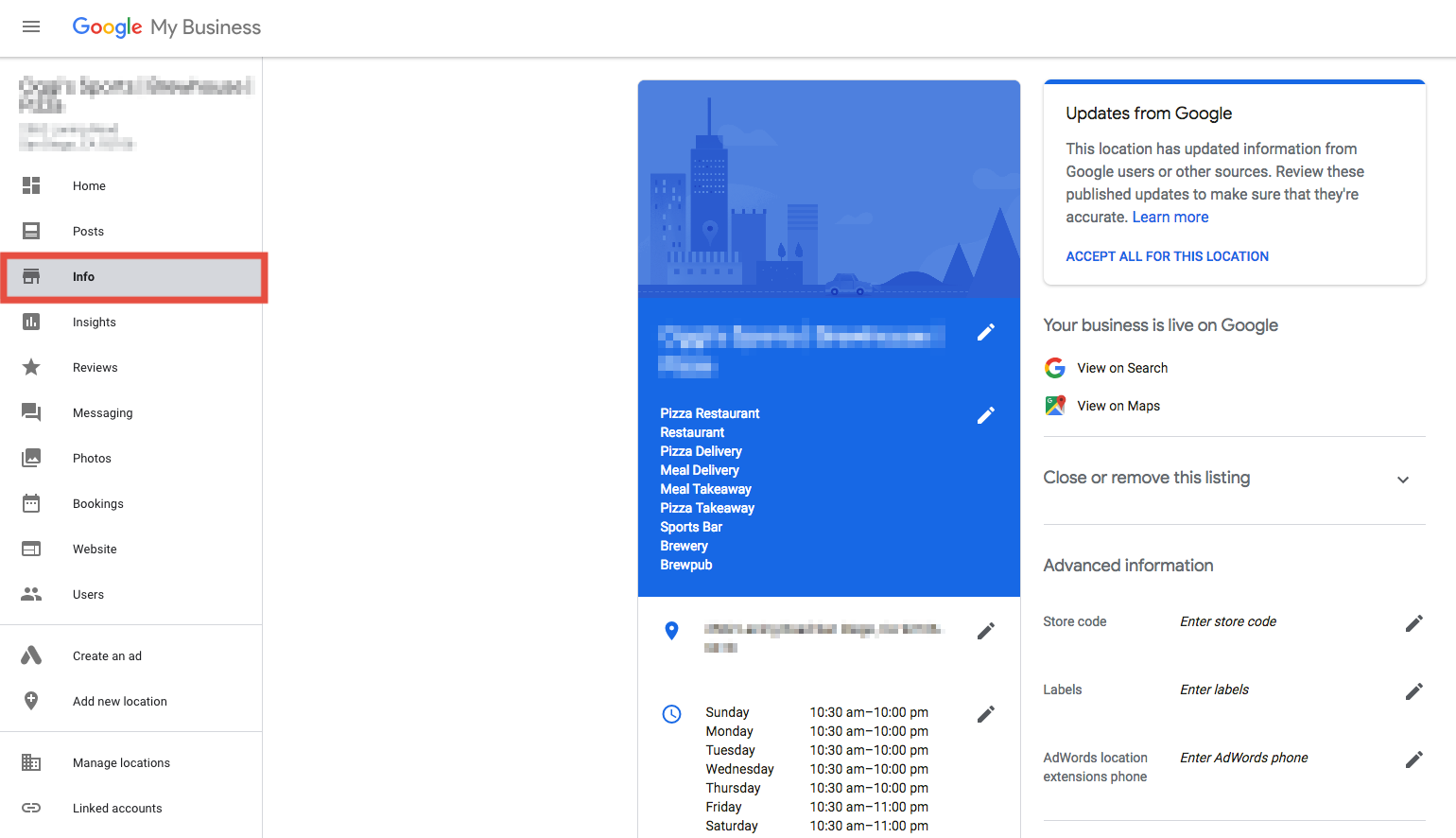 Run through these steps to fill out your Google My Business page thoroughly:
Choose a category that best represents your business. Identify your specialty if you can. Be as specific as possible and avoid general or broad terms.
Add a detailed business description. Take the time to use up the 750 words you have in this space and fuel it with some of your target keywords and phrases. Keep in mind that only the first 250 of the words show up on Knowledge Graph, so use the most important keywords first.
Add images to your profile. There's a section for the interior, exterior, and team which you can utilize to show off your business.
Search for your business on Google and ensure that you only have ONE listing. Sometimes multiple listings are claimed or created that must be cleaned up to effectively show up in a search.
You also have the opportunity to add services, hours, and things like types of menu items to your business. Make sure that you have as much information about your business, services, and products as possible on your Google My Business profile.
Get Familiar with the Dashboard
Once you've filled out your page information in detail, take a look at all of the other features that Google My Business has to offer.
From the home screen, you can write a post, add a photo, or create an ad. These are tools to help more people find your listing and interact with it.

The home screen also provides you with a snapshot of how your business listing is performing on Google Search and Google Maps as well as your latest post statistics.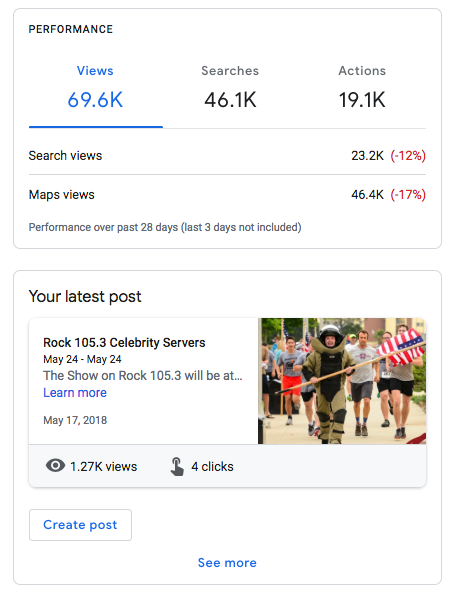 Your reviews get a widget on the home screen dashboard as well. This makes it easy to respond right away.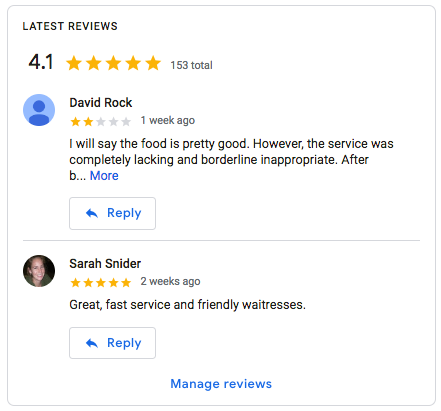 While the home section has a general snapshot of your Google My Business profile, each individual section has more in-depth capabilities.
Post an Event, Offer, or Piece of News
Generate foot traffic to your store or get more phone calls by simply posting an update to Google. Do you have a special going on for a holiday? Is there a limited time offer available? What is your business doing that you can post with the goal of bringing in more customers?
Posts are a good place to share your blog post and cornerstone website content. It helps boost your presence in Google's Knowledge Graph. We talked about how Google uses the Knowlege Graph a little bit in our article on local SEO. Don't be afraid to post your website content as well as special offers and promotions here.
To post to your Google My Business page, you can start from your home dashboard, or go to the "Posts" section using the menu on the left side of the screen.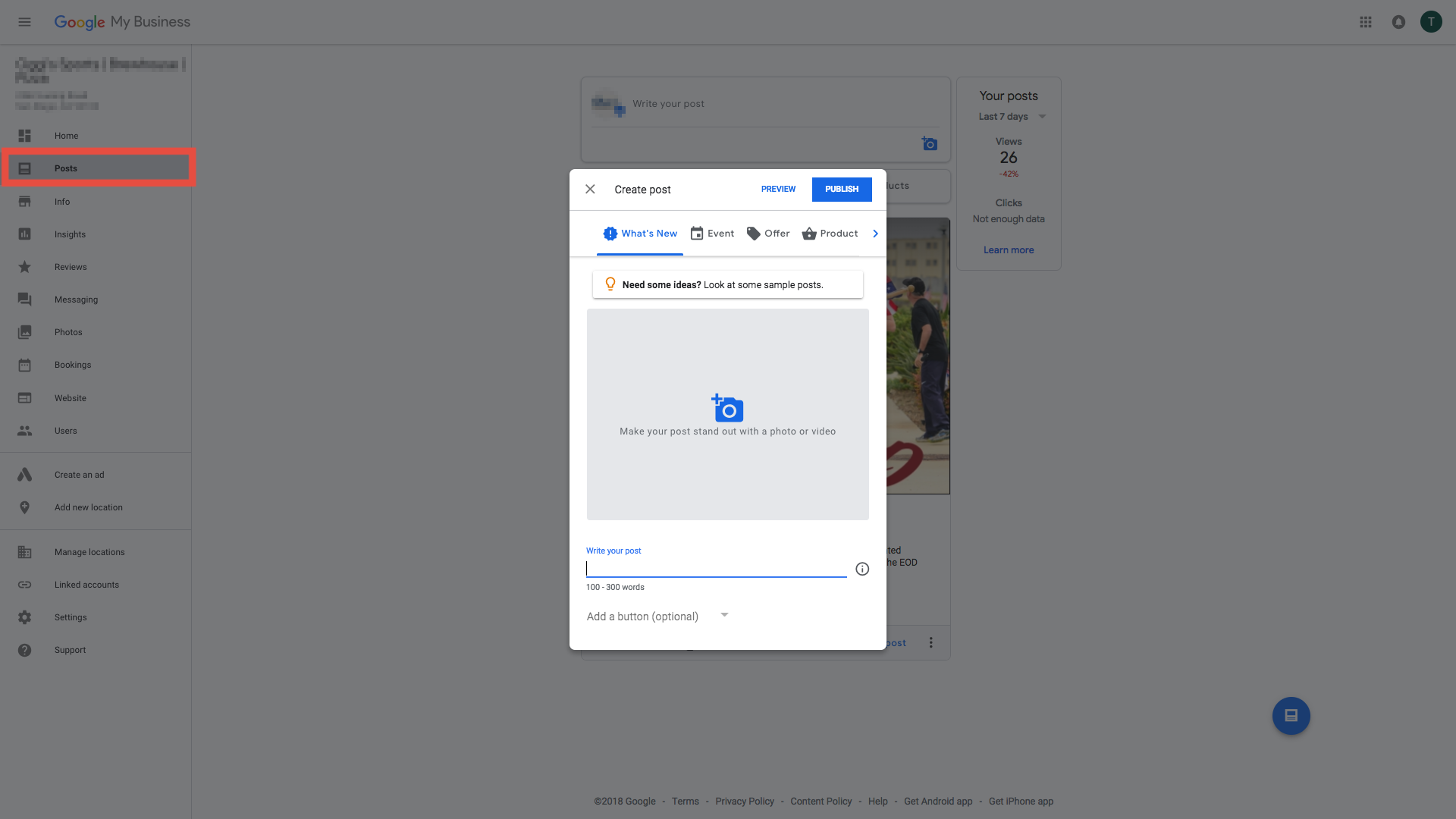 On this screen, fill out your post, enter the details and make sure you include a high-quality photo. Then hit publish and your post will become public, looking like one of the above examples. Preview your images and make sure your post looks great by searching for your business and viewing it from a customer's perspective. You might find you need to make adjustments to your images or there is a better way to format the copy.
Your post will stick around for seven days or so, so make sure you post here regularly. Treat it as an additional social media outlet.
Google My Business posts serve as a way to get people's attention with your listing. If they're on Google Maps or Google Search and come across your business, Google will display this information. The goal with this kind of content is to get people to go to your business, call your business, or raise general awareness of your business in the community.
You can make it even easier to find you now by including Emojis in your posts. According to Moz,
"Google is beginning to index emoji-relevant search results."
This means that your emojis are now searchable through Google.
Communicate With Your Customers Through Messaging
Interacting with your community through Google My Business can also be beneficial. Allow customers to interact with you directly by adding messaging to your business.
Navigate to the Messaging section of your dashboard, shown below. Then, finish setting up messaging by entering a phone number where you can receive SMS texts.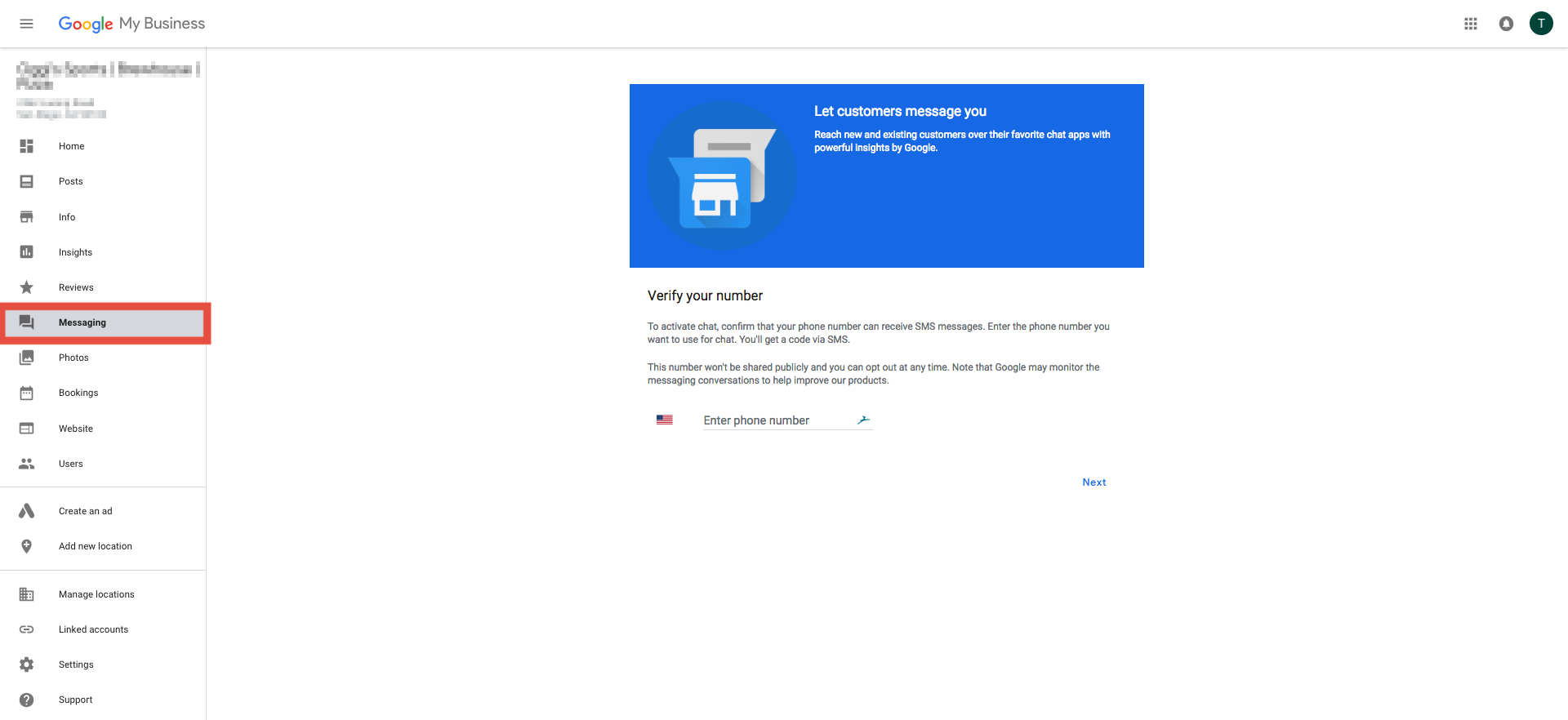 Don't worry, this will not give the public your cell phone number. It will just allow you to text back and forth with customers through the Google My Business platform. Your customers will see something that looks like the image below.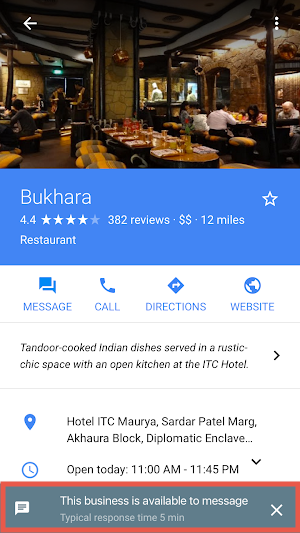 Allowing this feature may reduce the chance that a disgruntled customer will leave a bad review. They might choose to send you a message instead. It also provides potential and current customers with the ability to ask questions and get answers quickly.
Monitor and Respond to Your Reviews
Use Google My Business to monitor and respond to all your reviews in a timely manner. Google My Business has a tablet and mobile app to make this process easier.
From the desktop, your review dashboard looks like this.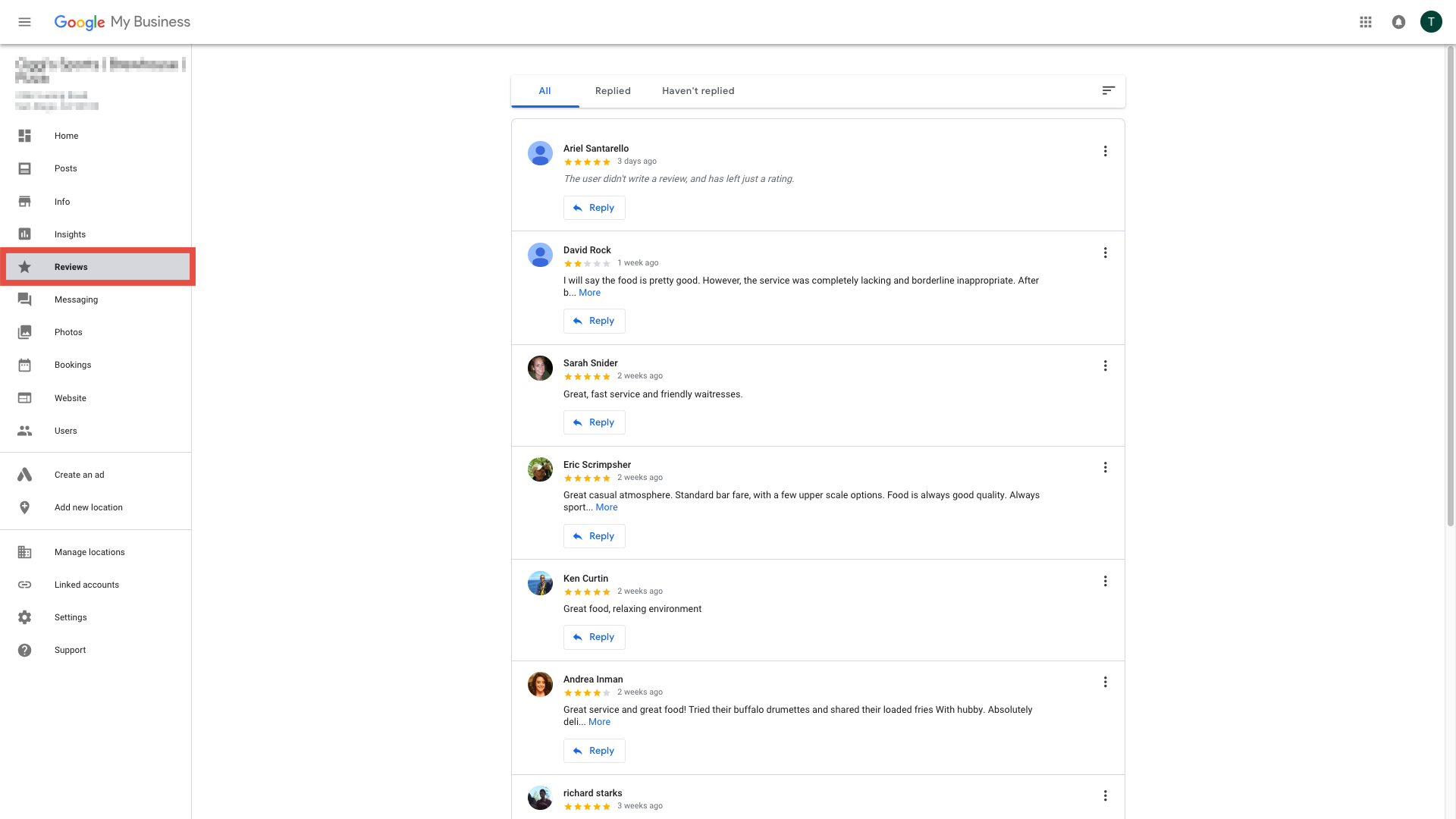 You can sort your reviews by those you haven't replied to in order of lowest to highest rating in order to respond to the most critical first. If you need help responding to reviews, we have an article outlining some best practices to guide you.
Get Insights
Your Google My Business Insights Dashboard should be your best friend when it comes to market research. To get there, go to the Insights section of your dashboard.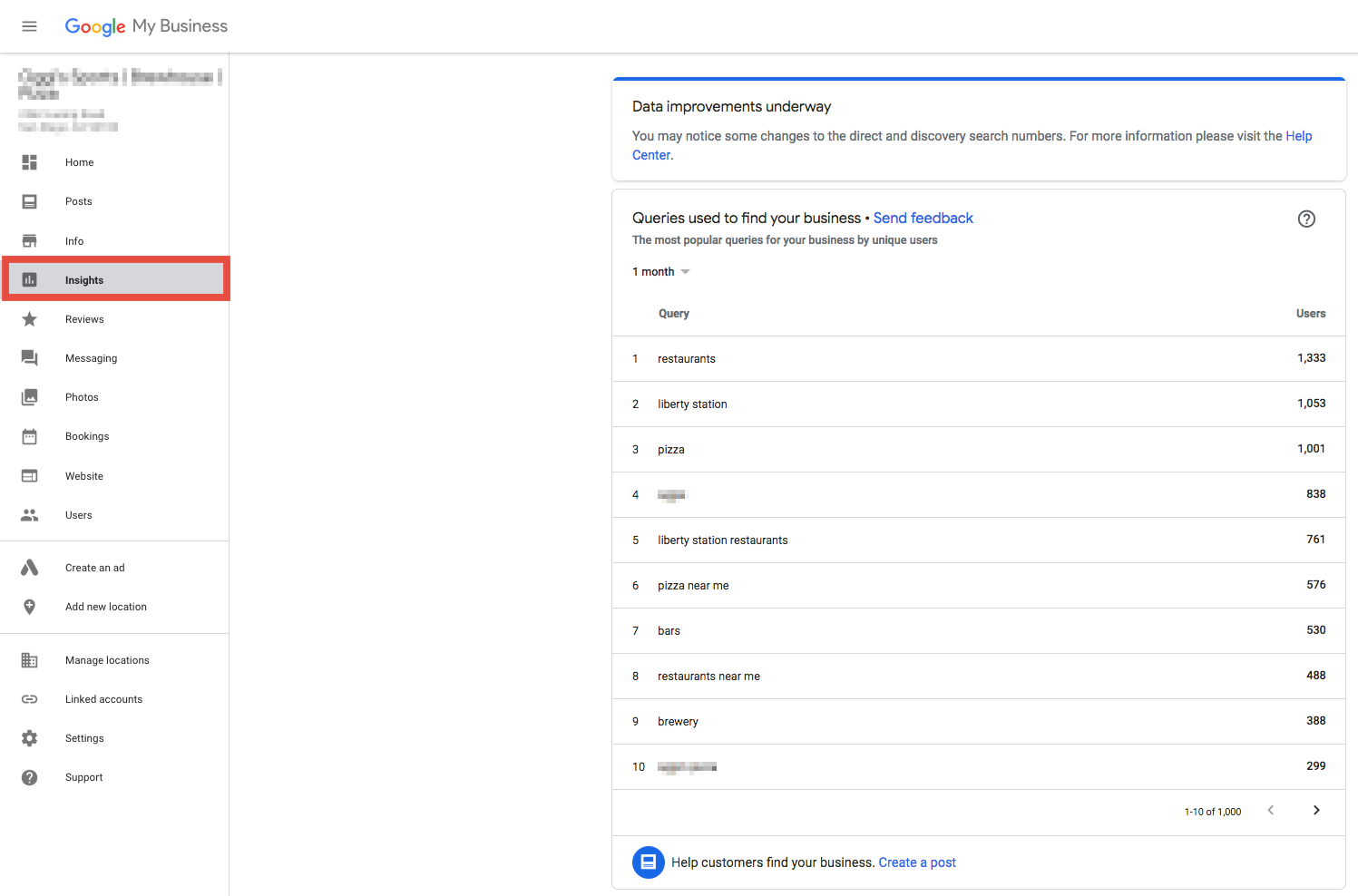 At the top, you will see the search terms that people use to find your business. These are a great way to see how people find your business and identify which keywords you might be missing on your listing.
Next on the dashboard are sections titled, "How customers search for your business" and "Where customers view your business on Google."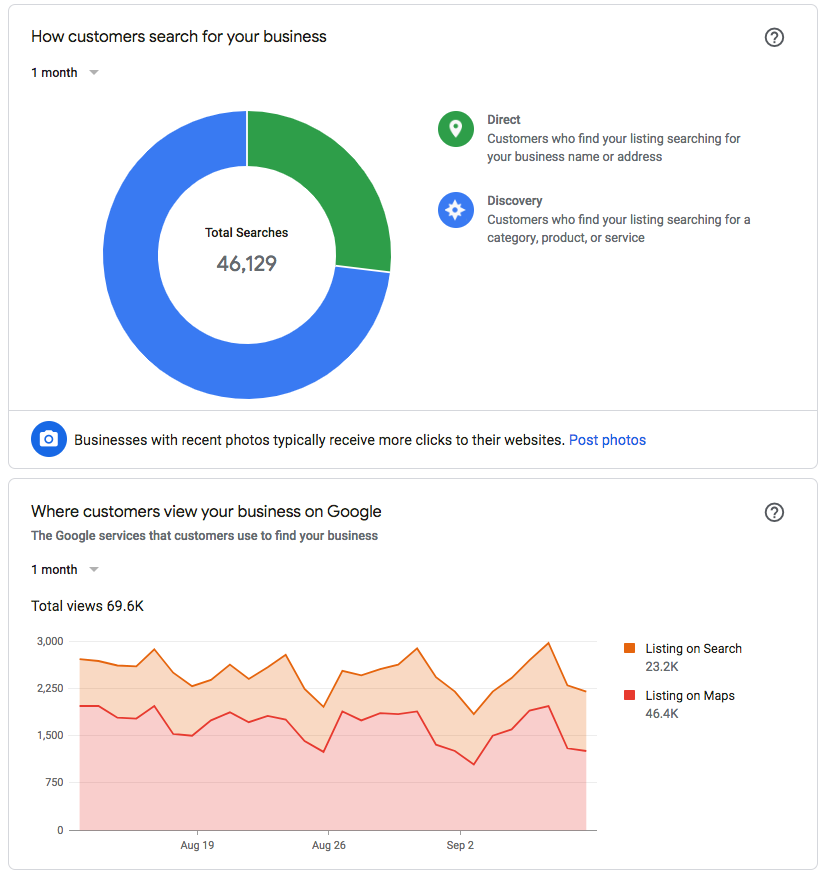 These two widgets allow you to see if your brand or what you provide to customers are more often searched for. It also tells you if people are looking for these things on their Maps application or through the Search Engine.
When someone is searching on maps, it means they are more likely to visit your location. Someone searching on Google might be looking for general information or a delivery service, etc.
Following where and how customers find you, Google shows you what customers do once they have found you and where they did it from.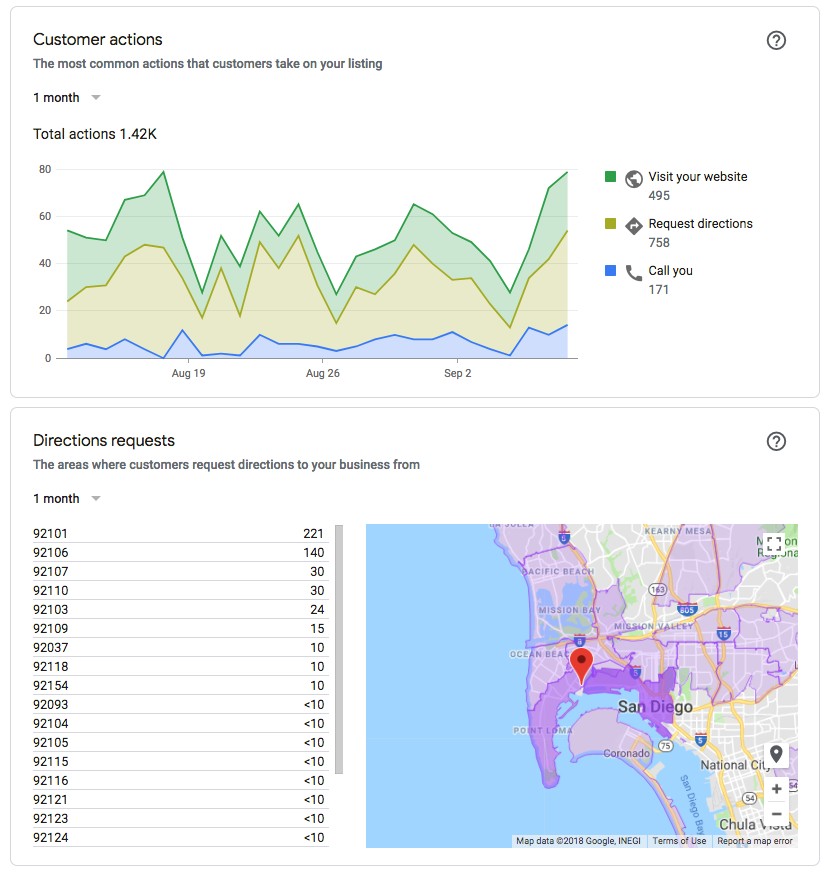 If you are a brick and mortar store with services, like a restaurant, you will probably want to see your "Request directions" number much higher than your "Call you" or "Visit website" actions. On the other hand, if you're a service business that travels to people's locations, you would want to see more calls than direction requests in this section.
Looking at the heatmap of where people ask for directions from can help you target your ad spend more efficiently later on. To keep customers returning, you would generally spend more in an area where there are more direction requests. To find new customers, you would spend more in an area with slightly less direction requests.
Get a more in depth look at your phone call status and find out which days of the week are higher volume than others. This metric will help you with staffing and to narrow down the timeframe that your ads show in Google Adwords.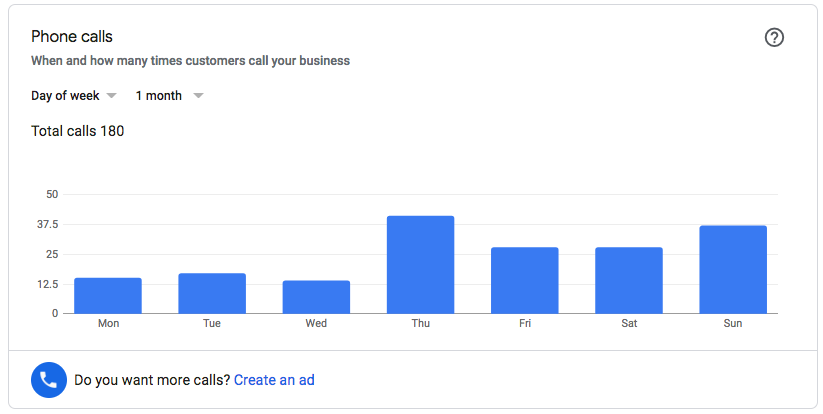 Going down the page further, you will find out what your business is known for. Google assigns key attributes based on reviews and feedback left by local guides, as well as the times of day people visit your business.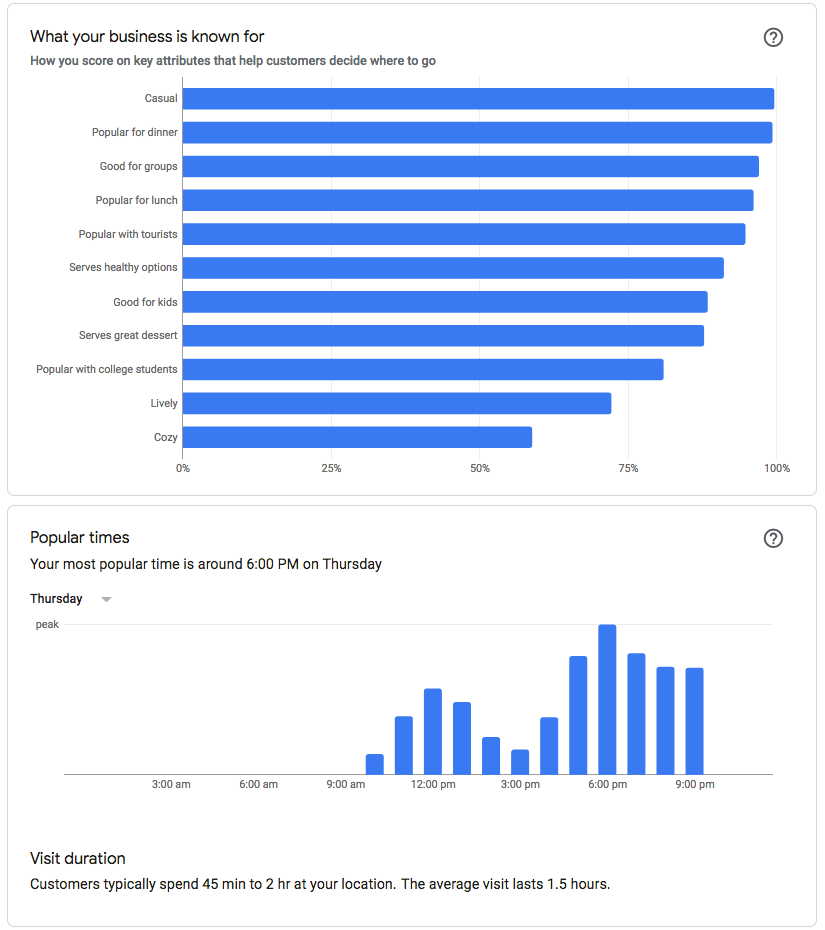 The peak hours shown in Google insights can help you staff your business more efficiently. This helps you give better service and bring down your labor costs.
At the very end of the Insights dashboard is a breakdown of your photo content. User generated photo content is one of the best ways to get found on Google. Adding your own will help to encourage this trend as well.
Each of the analytical overviews provided by Google My Business is useful in ways that can help you market and manage your business more effectively.
Google My Business Does Even More
Even after going through all of those powerful tools, Google My Business has a lot more to offer. These additional resources and features are either connected to external tools, like Adwords and booking providers, or require additional setup through Google.
Add More Users
Add more managers and users to your Google My Business page and assign them responsibilities. You might want the general manager of your restaurant trained on how to respond to reviews and manage your listing appropriately so they can make changes as needed. This is especially useful if you have multiple locations so each person can be in charge of one business listing.
Add Bookings to Your listing

You can also add bookings to your listing through a variety of third party service providers. This enables the ability for customers to schedule an appointment or reservation, or order delivery or takeout on platforms like Open Table and DoorDash, through their Google Account.
Create an Ad with Adwords Express
Creating an ad on Google is extremely easy through your Google My Business Page. When you click the "Create Ad" menu item on your dashboard, it will take you to the Adwords Express Ad creation workflow.

Once you've created your express ad, you'll be taken to the Adwords Express dashboard where you can monitor Google Adwords on a much more simplified platform.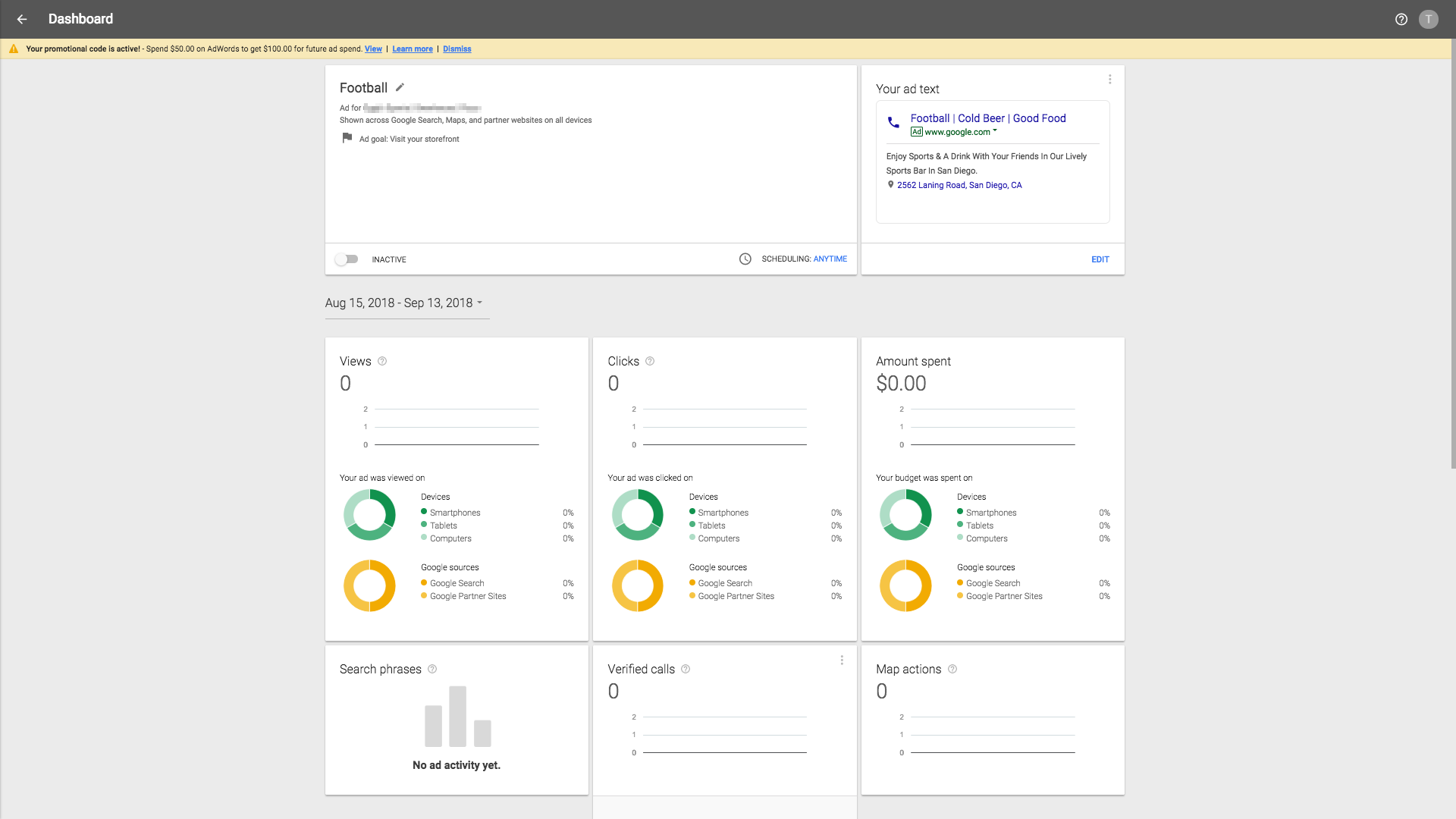 The Adwords Express platform can help you launch ads on Google quickly. An alternative to this is the regular Google Ads main platform, which can be daunting for those who have never used it.
Google Websites
We don't recommend using a Google site permanently. But, if you're in a crunch and your WordPress site is still being built, publish a quick Google site using the website content builder on Google My Business.
These sites are generated using your Google My Business profile content, so the more content you have there, the better your site will look.
User-Generated Questions and Edits
On the front-end of your listing, Google allows users to ask questions and make suggested edits to your business. If someone has suggested an edit, you will see a notification like this in the info section of your dashboard.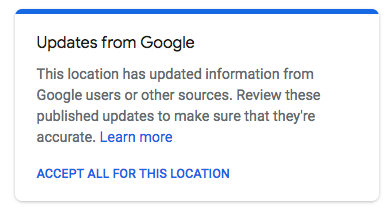 Manually approve or disapprove these edits in order to keep your listing up to date and optimized.
When a user asks a question, Google My Business will send you an email notification, but nothing will show on your dashboard. Instead, you have to answer these questions directly on your listing.
To find it, go to your listing page on Google search or the location on Maps and find this section. It's easiest to find community questions and the suggest an edit button on your mobile device through the Google Maps app.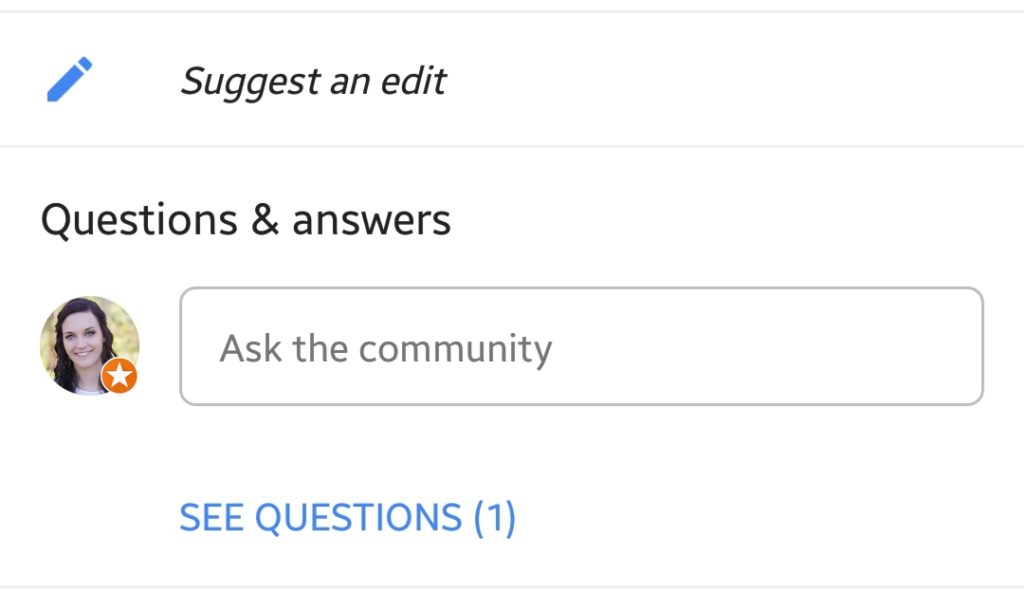 Anyone can answer these questions, so be quick and get there first. Make your potential customers see how involved you are and dedicated to your services.
Explore More Digital Marketing Opportunities
New features are often released for Google My Business, so make sure to continuously optimize your listing and keep an eye out for new features.
Digital marketing is an endlessly evolving field of business. Between Google's changing search engine algorithm and Facebook's privacy policy and news feed updates, there is a lot to keep up with.
Stay on top of your digital marketing strategy with tips from professionals in your inbox. Sign up for our newsletter now.