In this article, we'll talk about how online reviews can boost your local SEO, help your website rankings overall, and lead customers to you.
All businesses should have a website and all websites should care about how they rank in search engines. Local SEO is especially important to brick and mortar businesses as it impacts how they show up in local search results.
What is SEO?
SEO is an acronym that stands for Search Engine Optimization. In basic terms, it means how well people can find you on the Internet. We often refer to this phenomenon as findability. Meaning, it should be easy for people to find you when they're looking for a business such as yours.
Search engines use an elaborate algorithm to understand your website and best organize search results. This algorithm takes into account many factors, like the content on your pages, how well your site is designed, and the amount of traffic your site receives. It also accounts for other factors like your backlink profile and even reviews.
You should be found on sites such as:
Directories like Google Maps.
Social channels like Twitter.
Social channels that act as review sites like Facebook.
Review sites that act as social channels like Yelp.
Professional Pages like LinkedIn.
Blog posts on Medium.com or other socially-connected publishing sites.
Search is powered by words, both written and spoken. Use your website to tell your stories. Talk about everything from customers and about how you started, to your products and why you're different.
Make sure you don't dilute your efforts by duplicating your own content or scraping content from elsewhere. Not only is that bad for findability (SEO), it's plagiarism.
"Content is an important part of any SEO effort, so make sure you're not tripping yourself up with thin or duplicate content." – Miriam Ellis
It's important to maintain your website's SEO strategy and review it often because things change frequently in the world of Search Engine Optimization. You can analyze your general SEO with a variety of tools online.
Some of the basic tools to use are:
Free or Paid SEO Audits
Google Analytics
Google Webmaster Tools
Google Trends
Census Data
Moz Toolbar
What is Local SEO?
Being found in your community during a search is the basic thought behind local SEO. If you have a physical location, you want to show up in a Google Maps search and you want your website to be found quickly and easily by people nearby.
"Local SEO basically is the optimization process for the local results in search engines." – Arjan Snaterse
Findability is rooted in community building. Yes, reviews matter. If you're a salon, you want to be found on Yelp. If you're a real estate professional, you want to become the expert in your local community.
Your Facebook, Google, and Yelp reviews affect how well you are seen in a search both on maps and online search engines. The higher reviews you have, the more positive sentiment surrounding your business, which means you will be listed higher in the search results.
That said, you also want to be the person who talks about local events, hot spots, and little-known-facts on these platforms and on your own website. It is a great way to not only rank well but to also create a community around your brand. This puts you at top of the mind for when anyone does need a real estate professional, highlights and lowlights, or a great spot to listen to local jazz musicians.
"Localized website content focused on the user pulls them in and transforms a "user" into a person with specific needs and desires that can be solved by that business. That is the goal and that is why we need Local SEO." – Jen Miller 
Search engines look for the most relevant information to a specific search by looking at the user's past search history, geographical location, websites optimized for the terms the user is looking for, the amount and quality of traffic to the website, and sentiment surrounding the website online.
There's a lot that goes into search engine rankings. Search engines like Google use their Knowledge Graph and Rich Snippets to organize and display this information contextually based on search queries that come in.
"Local search results rank restaurants based on rating, volume, and recency of reviews." – BirdEye
What is Google's Knowledge Graph?
Search results have evolved over the years to help searchers find the answers to their questions with ease. Google's Knowledge Graph was introduced in May 2012 with the purpose of boosting Google's search relevancy (based on location and searched keywords) and providing direct answers to search queries at the top or side of search results in knowledge panels.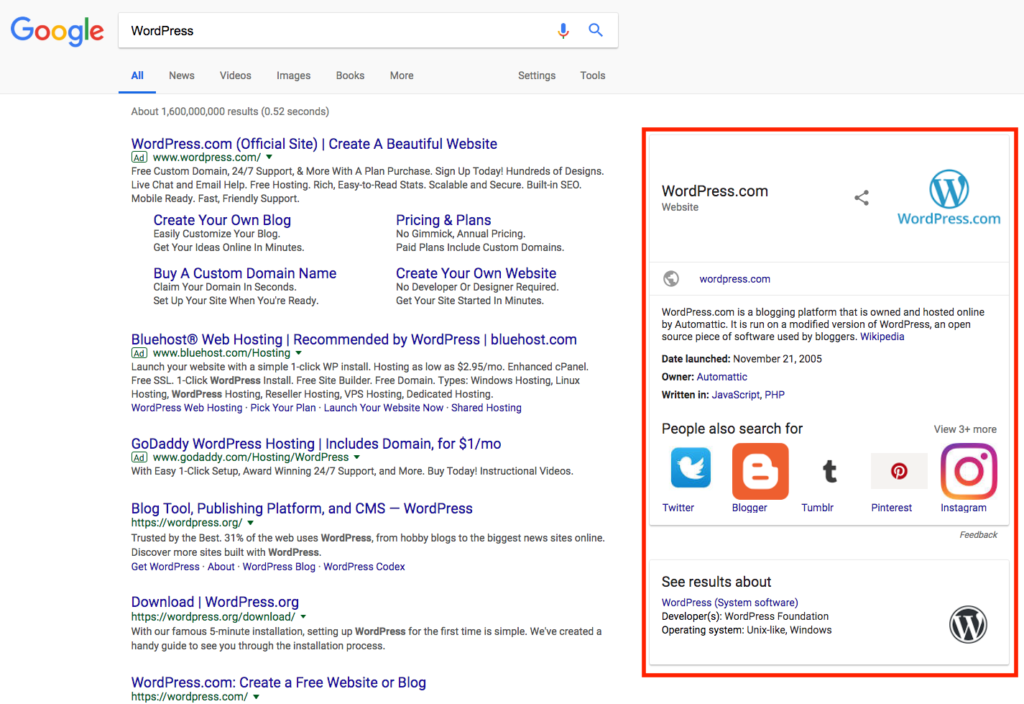 These infoboxes, or knowledge panels, are used sparingly by Google and only when deemed relevant by the search engine. If Google can't find (crawl) the information it needs to build these panels fully, the chances of your business info showing up are low.
Google's Knowledge Graph pulls in a variety of information including: your location (Google Map), a short blurb about your business, contact info,  a section called "Reviews from the web", as well as a section specifically for Google reviews. It's important to make sure your business information is easily found by Google to improve your chances of Google sharing your business data.
Your potential customers are making decisions quickly while surfing the web with many choices to sift through. Having your business show up in the Knowledge Graph is an effective way of capturing their interest first, before any of your competitors.
Here are a few action steps to take to improve your chances of being found locally:
Claim your business listing on Google, Bing and other directory sites. Make sure your profiles are fully developed.
Submit a sitemap of your site in your Google Webmaster account.
Review your business info across the web and fix any inconsistencies in contact or location information.
Add Schema Markup to your site that identifies your location info, contact info, hours of operation, and reviews.
How do reviews factor into Local SEO?
Reviews are social proof. In a world where we spend more time with our online neighbors than with our physical neighbors, social proof is key. We look for keywords in the reviews that match our interests. When looking for a good Mexican cantina, we might be interested in how good their skinny margarita is. With a hair stylist, we may want to know how friendly the stylist is and how booked up her calendar might be.
Search engines also look for content in this same way. They try to find what is more relevant to the user. So first it will look at the user's geographic location and then the content they are searching for.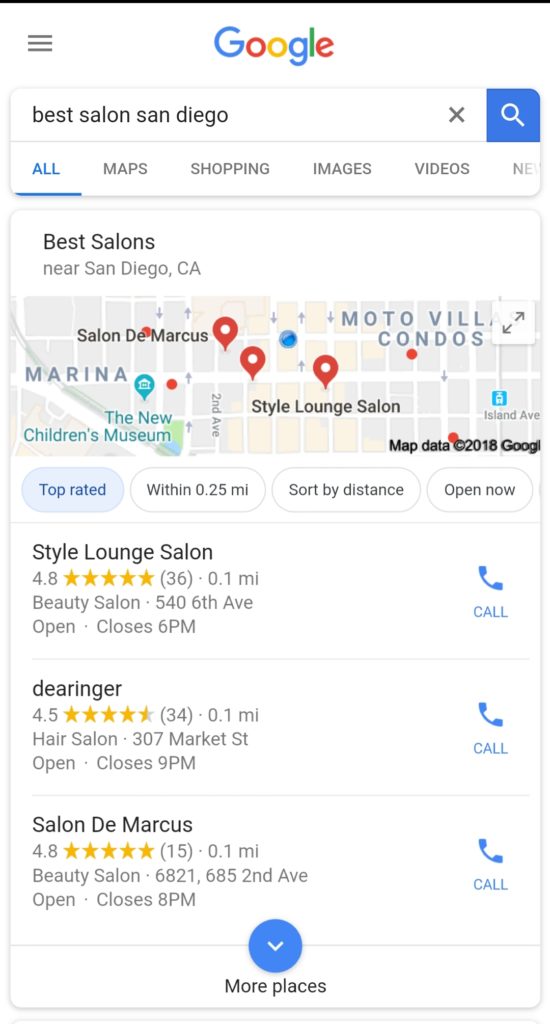 The more you have that matches this query, the easier your business will be found. Search engines like Google crawl the content of reviews to look for these keywords.
"Customer reviews are one of the easiest and most sustainable practices you can implement to improve your SEO." – David Mihm
User-generated content, like reviews, is a great addition to your site. These experiences are shared by your customers in their own words, which likely include some popular keywords that you'll want to rank for in search.
"If you're a well-known local business owner, one of your online goals should be getting more local reviews from your (satisfied) customers. These reviews or ratings help Google in determining the value of your company for their users." – Michiel Heijmans
Reviews on your website help your organic search rankings, too.
Search engines crawl your pages for a wide range of things, but one of the most important is your content. Reviews are counted as content on your website.
What people say matters because if Susie in New York is planning her vacation in California and wants to find the best margarita near her hotel, she just might find someone talking about that online. How? She Googled it.
Google found the original review and the website associated. Since she can read the review at the top of the Google search, Susie will click the link to the website below. This will take her directly to the page with mashed up reviews from Google, Yelp, Facebook, and Yellow Pages, thanks to WP Business Reviews.
Now Susie has all the social proof she needs to know this bar really does have the best margarita near her hotel and she can click directly on the menu, directions, or contact link.
When you list reviews pulled from other sources, like Yelp, and choose to link back to the original post, the backlinks to the review sites like Google and Yelp help your domain authority and organic search rankings go up even further.
It's good to keep in mind that detailed business reviews will offer more valuable insights to both your potential customers and to search engines. In-depth customer experiences shared on your website will help to paint a clear picture of what your business has to offer and guide your visitors to engage with you.
Additionally, visible star ratings help build a narrative around the experience your prospective customers can expect from your business. When your reviews are showcased on your website, you have an opportunity to use schema markup to tell Google to show your cumulative star rating directly in your search results.

Listen and Engage
When it comes to making any buying decision, consumers are seeking and finding reviews that will validate their inquiry. In fact, according to a 2017 survey by Podium, 93% of consumers consider reviews when making a purchase. Furthermore, consumers look for a 3.3-star rating or above when deciding to engage with a business.
Not only should you aim to earn reviews on a consistent basis, you should make it a point to engage with the reviews you're receiving – good and bad. Thank your customers for taking the time to write you a review: leave a comment on their review if you can, or communicate your appreciation in a follow-up email or phone call.
Google has told us blatantly that replying to reviews boosts local SEO, as stated here on this  Google My Business Help page: "Responding to reviews shows that you value your customers and the feedback that they leave about your business."
The reviews you earn are little nuggets of gold that you can dig into when addressing customer concerns and during a time of change for your business. Customer feedback will help you serve your community better and as a result, boost your bottom line.
Are you seeing a consistent theme communicated from your patrons? Is there something you could do better? Use your reviews as fuel for fostering change within your business (and earn even more high-star reviews in the process!).
What works for you?
Every business is different. What works for one might not work for another, but with reviews, there is only one avenue to success. Take ownership of your reviews and make sure they are displayed on your website.
What works for you? Let us know in the comments below. If you haven't tried WP Business Reviews, take a look at all the features and try it out. You won't regret it.