A robust reviews strategy will help you get more reviews, which builds credibility and trust with both customers and search engines. Here's how to earn more high-quality reviews to rank higher in search results and connect with your customers.
Work with What You Have
If you're just getting started with a new reviews strategy you'll want to begin by working with the testimonials you've already acquired. Chances are, you've received feedback from your customers somewhere on or offline. Hunt down these conversations on Google, Facebook, Yelp, and anywhere else you may have a business presence and gather them into a list.
Use your current reviews as a signpost for what you're looking for by displaying them on your website. That is, of course, if you're happy with the reviews you have so far. Showing off your current reviews on your site will inform your potential customers of what kind of experiences they can expect from visiting your establishment and encourage new customers to share their own experiences.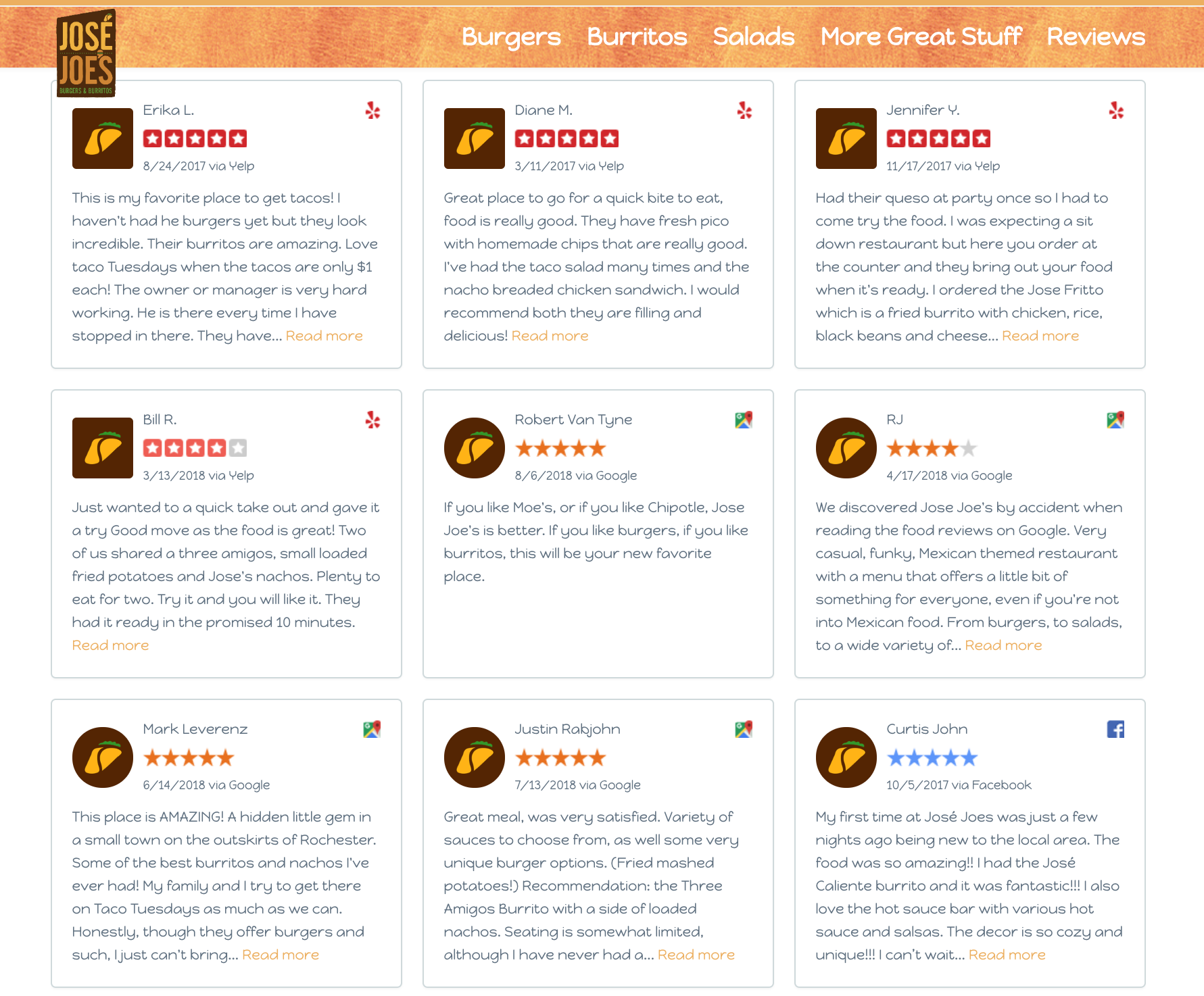 Have you examined the feedback you've already received to understand which customers tend to write you a review? Maybe there's some consistency to the messaging you're seeing so far. Do you see a similarity in the type of customer who has taken the time to write you a review? Gather and evaluate this data to learn who you can ask to write you a review (and who you shouldn't ask).
Expand your Reach Across Multiple Review Sites
While you're gathering your review data, pay attention to what review sites you're on and what kind of feedback you receive from each.
There are a lot of review sites out there that can broaden your reach across demographics. Some people love Facebook, some don't. Some people live on Yelp, while others don't even know what Yelp is.
Find out what platforms you're listed on and decide if you need to be listed on others.  Establish your business across as many platforms as you can manage, so you do not miss any review opportunities.
Start with some of the basic platforms and expand from there based on how well you are able to manage the reviews you receive.
Get More Reviews Using The Art of Asking
Now that you've established your platforms and determined how you will manage your reviews as well as which customers are the best to ask for them, it's time to start asking.
Asking your customers to write a review for your business is both simple and complex. There are a lot of ways to ask. However, it isn't so easy to know which will work best for your business. It's pretty common to feel anxious about the whole thing!
Feel it Out
Can you tell if your customer is happy or unhappy? Approach them with grace and care. Ask them "is there anything else we can do for you?" or something similar. If it seems like a good segway, ask them to take action and write a review.
Get More Reviews from Regulars
Have you asked your most favorite, devoted customers to write you a review? Regular and loyal customers are often the best reviewers but the most overlooked. Offer your regulars at least two different listings on which to leave a review. Be sure to reach out within 2 weeks if you don't see them take action. Chances are, they'll write you a glowing recommendation.
Use Your Team
Asking for reviews doesn't need to fall on your shoulders alone. Utilize your team and empower them to ask for reviews when the opportunity presents itself. The better informed and supported your team, the more likely they'll have the courage to ask more often.
Ask for Honesty
Let your customers know that you're looking for honest, raw feedback and not just five stars. Place an emphasis on this point and anything else that's important to you in your review request copy (what you write on your "Review Us" page, follow-up email, social media etc).
Another Consideration
How do your competitors ask for reviews? Have you noticed what works/what doesn't in your industry? Gain insights from your competitors and learn from their mistakes.
Chances are if a competitor has a ton of great reviews to showcase, they're doing something right. Everyone is different, so make sure to take action only if it's aligned with the integrity of your business.
Simplify the Review Process
Asking your customers to write reviews isn't always the easiest to work into conversation. Relying on team members to make this request in their day to day interactions with customers makes things even more complicated.
Simplifying the review process will empower your team to ask for reviews and will improve your chances of getting more reviews in the long run.
Here a few easy ways to simplify your review process:
Add a "Review Us" page to your site with a link to each of your listings and instructions for writing a review on each (your most desired platform should be at the top!)

Avoid confusion by eliminating inconsistencies with your brand identity across all of your business listings (is your business name/address/branding consistent across all listings?) This is also a necessary step for your SEO efforts.
Some customers will want to write their review in person right there on the spot. Do you know exactly what you or your staff would instruct the customer to do? ("open this app/URL…")
Create tangible materials that your team can utilize in their daily workflow. Add the request to receipts, add signage somewhere in your storefront, and incentivize your team to ask as much as they can. You might even consider purchasing a tablet or mobile device to use in-store and allow customers to leave reviews on the spot.
Consider privacy. Your customers might not be inclined to share their name in their review. Offer a solution to those patrons who want to keep things private – make sure an anonymous option is available somewhere, whether it be via email or some other on-site format.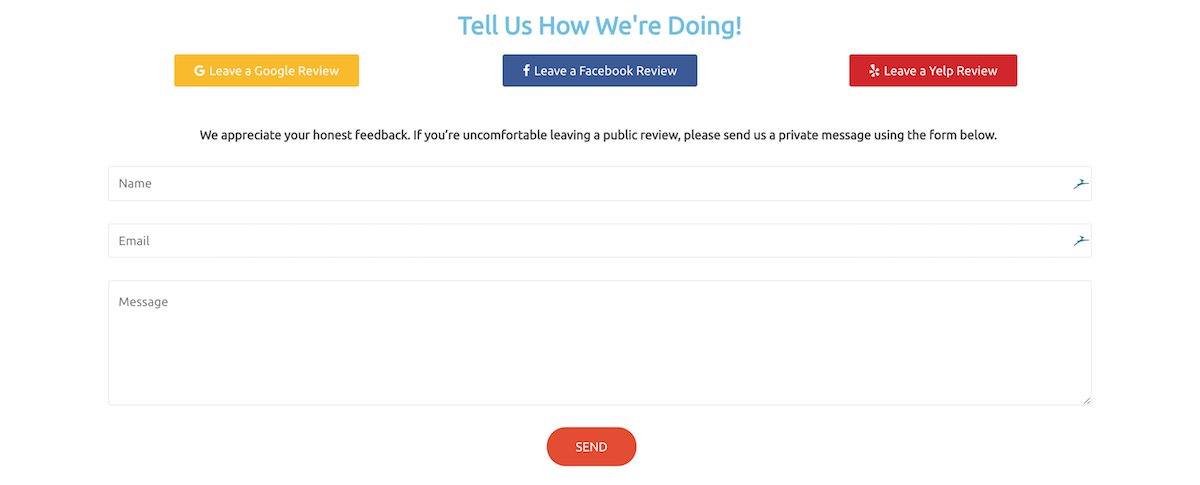 Follow-up is Key
When asking for a review, schedule your follow-up contact for 24 hours or less after the time of service for the best results. The more time that passes, the less likely it is that your customer will feel inspired or remember to write a review.
Your follow-up could be via email, text, call, or snail mail. Whichever medium you choose, make sure to include your preferred review platform and instruction for writing the review. Send another follow-up email 3-5 days later as a final reminder.
Follow-up doesn't stop after you've requested your customers write you a review. Follow-up is essential once you actually start to receive reviews as well. It's imperative to respond to each one, good or bad. Acknowledge the review with a simple statement of gratitude. This could be a comment on the review, a follow-up email, a postcard in the mail with a special gift, or even a phone call.
Bad reviews come with the territory, so you will also get a few of those in the mix. Make sure to respond to any bad reviews with compassion and keep your focus positive. What can you do to acknowledge this customer's complaint? Read more on how to best respond to negative customer reviews here.
Be Patient, Consistent, & Flexible
It's common to feel anxious about gathering enough reviews to be considered for higher rankings or to improve sentiment for your business. But, "slow and steady" definitely applies here. It's crucial to acquire genuine, quality reviews from a wide scope of platforms across the web.
Be willing to change things up if you're not noticing an improvement after a month or so. If you've asked 20+ customers and haven't seen any follow-up from them, it's time to change your methods.
Maybe there's a better way to communicate your request. Every business is different. So it's your job to test what's working and what isn't. Consider changing up the timing in which you're asking for reviews or how you ask.
You Get What You Give
Start writing reviews on the sites that you're asking your customers to write reviews for you on and get to know what the process is like from their perspective. Know exactly what you're asking your customers to do. This will empower your request for reviews and help you to inform your customer when there's hesitation or confusion.
Understanding the review process on different sites is helpful and a great practice, but not only for boosting your own review profiles. Participating by sharing your own experiences with local businesses keeps the good karma flowing. You truly do get what you give!
Write reviews about local businesses you frequent. Share your story. Help someone else out there looking to explore something new by allowing them to try on your perspective, even if just for a moment.
More Habits that Build Your Business On and Offline
Customer Experience: Leads are important, but not the only work at hand. Focus on giving a great customer experience offline and online.
Community Involvement: Get involved with the local industry, identify key influencers and ideal customers. Then meet them online and off. Don't just limit yourself to your in-person or online community. Be active in both.
Uphold Brand Standards: The total customer experience matters. Make sure everything the customer sees aligns with your brand. This includes your initial ads, your social media posts, and your in-store atmosphere and service. This also includes your messaging when you ask for reviews and follow up on them.
Content Analysis: Look at Google Analytics regularly and determine what content is performing well and what is not.
Social Media Presence: A picture tagged a day matters. Be on social media.
Improve Your Reviews
Reviews are the social signals that your customers rely on to make buying decisions. It's beneficial to actively ask for them and build strategic habits to increase your number of overall and positive reviews.
Want more? Sign up for our newsletter to get more business review marketing tips.