Maintaining an attractive average review rating and curating recent positive reviews is important for attracting new customers. Reputation management for businesses is the key to keeping your average review rating high and your most recent reviews positive.
Why You Need a Reputation Management System
Your online presence is about more than just SEO and the content on your own website. Your reviews, what your customers say about you on social media, and your overall sentiment are also crucial to the health of your business.
Not only does a reputation management system help your general public perception, it helps you keep track of your customers and improve your business as a whole. Here are a few other benefits of using a reputation management system:
Get valuable customer insights.
Stop negative reviews before they happen.
Turn negative experiences into positive ones.
Generate more reviews overall.
Eliminate inconsistent listing information online.
Increase customer satisfaction.
Increase visibility and credibility.
Below we've gathered 5 reputation management systems and tools to help you manage your online reputation.

Grow your customer base, get found online and get more reviews with BirdEye. Their main appeal is that each solution is customized based on the individual business' needs. So you can help your business reviews maintain a more positive outlook with a system designed to give you in-depth insight into what your customers are saying.
BirdEye goes beyond reviews into online listing management and more. Listing management is crucial because many listing websites include reviews. But your listing itself is also important for your SEO. You need to make sure that your listings all match, whether you knew they existed or not. BirdEye can help you do this.
Key Features:
Reviews: The bread and butter of BirdEye, manage your online reviews across multiple platforms in one place.
Listings: Find existing listings and put your business on the map of a large network of listing websites.
Webchat: Use a live chat feature to convert your customers into clicks on your website.
Messenger: Meet your customers where they're at their phone. Use messaging to connect with your customers.
Social: Use social media listening to get key insights about your brand.
Surveys: Easily create a simple or sophisticated survey to track your customer satisfaction and more.
Ticketing: Turn problems into customer support tickets. Turn bad things into good, then maybe ask for a review after you've solved the problem.
Insights: Analyze your insights from reviews, surveys, social media, and customer support to get actionable information.
Benchmarking: Compare yourself to a competitor and find out where you're different, where you're better, and where you need to improve to keep up.
This system is tailored to each business, so pricing is not available online. Don't let that deter you from investigating this robust reputation management system.

Take control of your online reputation with Reputation Loop. Generate reviews by inputting customer information. Reputation Loop sends surveys to your customers then segregates where they are directed based on their feedback. Mitigate bad feedback from going on the web and encourage customers with great experiences to post them to websites like Facebook, Google, and Yelp.
This system also manages all of your online listings so you know that your information is accurate and uniform everywhere. You can also enhance your listing information with additional features to draw potential customers in.
Key Features:
Listings Management: Control your listings across 55+ websites to make sure your information is accurate and up to date.
Integrations: This system integrates with Dental Practice Management Systems, email marketing systems, social media outlets, online directories, review platforms, and more.
Review Monitoring: Monitor your review pages actively with SMS alerts, email notifications, and negative feedback workflow management.
Real-Time Reporting: Get automated weekly and monthly reports with insights into your company sentiment, average ratings, and overall review generation.
Employee Performance: Empower your employees to generate reviews with a custom employee review link and application for them to request reviews from customers at the optimal times. Track your employee performance with individualized feedback.
Micro Business Website: Expand your online presence with a microsite. The positive reviews left for your company through the system that people choose not to post on a regular review site are listed here.
Social Media: Share your best customer experiences on social media automatically with beautifully crafted posts.
The pricing for Reputation Loop is not listed online because their solutions are customized for each business. However, they do have package breakdowns for single businesses, enterprises and marketing agencies.

Manage your customer interactions and feedback all in one place with Podium. Their messaging and chat features will help you connect and stay in touch with customers while their review monitoring system will show you where you can improve.
Send invitations instantly to customers who have completed a transaction, then monitor the results. Track your review trends to understand what customers really think of your business and how you can improve. Plus, use your insights to keep track of your competition to get a leg up.
Key Features:
Messaging Platform: Receive and respond to messages from Facebook, Google, webchat and SMS all in one inbox.
Reviews: Send review invites, monitor your feedback, and know which employees are performing well.
Webchat: Capture visitors contact information via webchat and respond through your messaging platform. Keep a record of your conversations for training and quality of service.
Feedback: Create custom surveys to send out to your customers and send automated responses.
Insights: Identify key performers on your team and spot negative and positive trends in your reviews. Monitor your growth and compare yourself to the competition.
Integrations: This system integrates with hundreds of other platforms including dental management, email marketing, and more.
Podium's pricing is not listed online. Instead, you may contact them through their pricing page and they will make sure you're set up with everything you need.

ReviewTrackers is another online reputation management system offering a dashboard to manage all your reviews from multiple websites in one location. They have a "smart response" feature that makes it easy to respond to reviews quickly. Simply load a few predetermined responses and then you can respond to all your reviews in one click.
This system also includes a mobile app so you're notified of reviews as they come in and you're able to respond on the go. It has the ability to generate more reviews with the Ask Tool and conduct customer surveys for more in-depth insights.
Key Features:
Reviews: Generate, monitor and respond to reviews easily all from one place.
Surveys: Gain an in-depth understanding of your customers to make impactful change and maintain positive relationships.
Analytics: Know everything about your customer experiences with advanced analytics, including competitor reporting.
Operational Insights: Get to know more about your own business with customer pain points, review analysis, and more.
Business Listings: Ensure a consistent NAP (name, address, phone number) across the web.
Mobile App: Stay on top of your reputation while you're away from your desk.
Pricing for ReviewTracker begins at $49 and varies based on what features you want and how many business locations are to be included.
Hire an Agency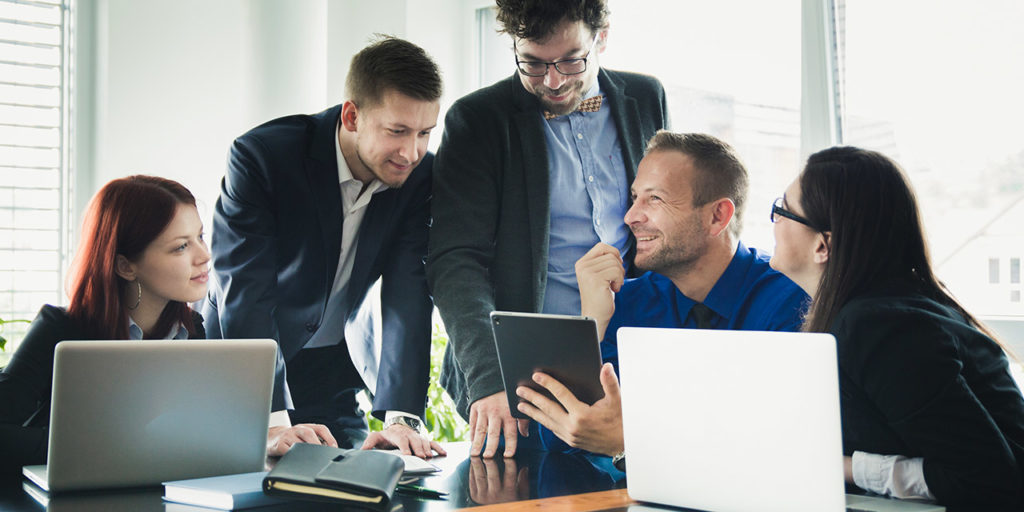 The last option for a robust review management system is to hire an agency. Get an expert to manage your online reputation for you. Many agencies use a combination of the tools above, among others. By hiring an agency you may end up getting more value.
What to look for when hiring a reputation management agency:
Value vs Reputation: Past customer success in a similar industry is ideal, but not necessarily a must. Review marketing is relatively new. If you want an agency that's affordable and pays attention to you, you might consider a smaller agency with fewer clients.
Services vs Access to Tech: Why are you hiring the agency? Agencies can be used to help you with the setup and maintenance of your review systems or they can manage your entire reputation for you.
A few examples of marketing agencies that specialize in online reputation management are M'agency and RevLocal. M'Agency is a smaller agency that works more with small to medium businesses, whereas RevLocal works with businesses of all sizes and is a large-scale agency. The type of agency you choose will depend on your preference, budget, and needs.
Another option is to hire a consultant to help coach you through managing your reputation online. Agencies like Pam Ann Marketing offer consultation services as well.
Take Control of Your Online Reputation
Your online reputation matters. If you don't have enough positive data coming in through your reviews, then displaying them on your website is a lot harder. However, putting reviews on your site is also a good way to manage your reputation.
The content curated by a plugin like WP Business Reviews helps to boost your local and organic SEO. That means people researching on search engines like Google will see the review listings on your website more often in addition to the reviews displayed by Google itself.
Try WP Business Reviews as a way to enhance your overall reputation management strategy.