We've summarized the best tips on how to remove a review from Facebook. Reporting your bad reviews is only one piece of the puzzle.
Facebook recently made changes to its review and recommendation features for businesses. With these changes, many business owners have seen new prompts on their screens explaining how to remove a review from Facebook.
While the platform is switching over from reviews to recommendations, the process for removing either is the same. This post will walk you through how to handle an unfair, derogatory, or slanderous Facebook review or negative recommendation.
Why did someone leave a bad recommendation or review?
The first step is to evaluate the review. Was the bad review a legitimate experience? Was it a disgruntled employee or competitor?
Facebook has community guidelines that every post must meet. If any post doesn't meet those guidelines, Facebook can remove it and even deactivate the account of the user who posted it. But Facebook will only act on your reviews if you alert them to it in the first place.
How to Remove a Review From Facebook
Step One: Respond to the review/recommendation publicly.
You should always start by responding to the review publicly. Then reach out to the person privately.
Responding publicly is important because this review or recommendation is public for any of your Facebook viewers to see How you respond to negativity sometimes speaks more powerfully than the negative post itself.
Step Two: Ask the person to take down the post or change what they wrote.
Sometimes people just want to know there's an actual person behind the brand. They want their concerns to be heard by someone real and they want to know their opinions matter and something will be done. Messaging the individual privately on top of responding publicly shows that you actually care. You're not just replying to show off to the public.
You might be surprised to find that by responding within 24 hours to your negative reviews and recommendations, you can actually convince the person to change the reviews. Oftentimes they will even change it without you asking.
Step Three: Report the Review.
Reporting negative recommendations and reviews to Facebook should be the last resort after you've spoken to the person in question.
If you've tried to reach out to the person and the post fails to meet the community standards, then begin the process of removal. The main things to look out for that are reportable are:
Hate Speech
Violence and Graphic Content
Adult Nudity and Sexual Activity
Cruel and Insensitive Content
To report the review, click the three dots on the upper right corner of the post and choose "Give Feedback on this recommendation."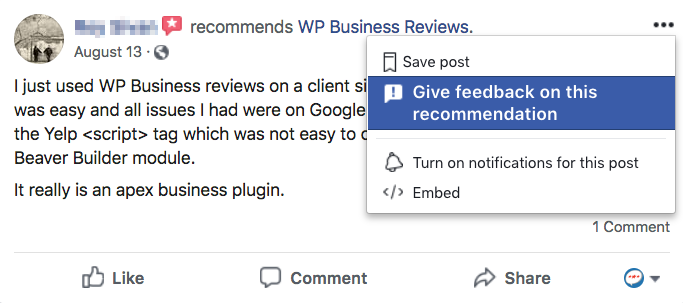 Then select the reason you're reporting the review or recommendation.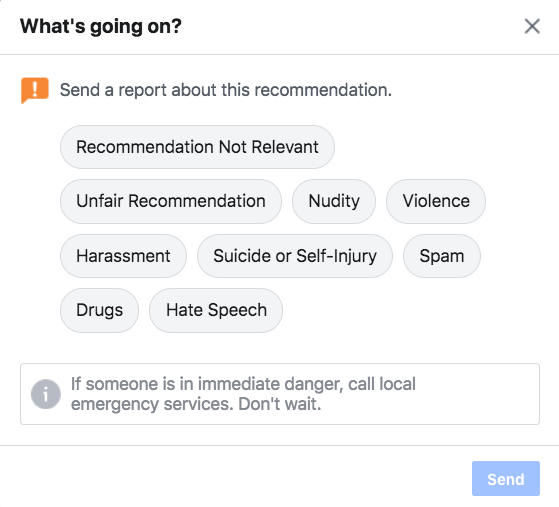 Once you've reported the review, Facebook will take care of the rest.
Step Four: Monitor the Situation
After you've done as much as you possibly can to handle your negative recommendation or review, monitor what happens next. Did the reviewer change or delete it themselves? Did Facebook take it down? Make sure you keep track of what happens to the negative post.
Should You Turn off Reviews/Recommendations?
When faced with a lot of bad reviews and recommendations, many businesses turn off the ability to review their business on Facebook. Turning off reviews is not a good practice.
It's okay for a temporary stop in an emergency situation, but there are a few reasons it's not useful to do this.
It won't stop anyone from leaving a negative review on a different website.
It looks bad for your business; as if you have something to hide.
It decreases the likelihood that potential customers will trust your business.
Instead of turning off recommendations and reviews on Facebook altogether, consider using your negative reviews to highlight how you will make changes to your business and bury negative sentiment by taking advantage of your positive reviews.
Bury Negativity With Positive Sentiment
The best thing you can do to get your negative reviews to go away is to flood them with positive ones. There are many ways to ask customers for positive reviews, but the best option is to build positive habits to get better reviews into your daily routine.
Ask your customers to leave you Facebook recommendations specifically. Give them the link to your reviews page rather than leaving the option to choose a platform open.
You can find this link by visiting your settings on your Facebook page.
Business Page > Settings > Templates and Tabs > Reviews/Recommendations

Whether or not your tabs say "Reviews" or "Recommendations" is determined by Facebook's slow rollover into recommendations. Some users see reviews, others see recommendations. Eventually, everyone will see only recommendations.
Make a Change and Make it Known
Business owners and marketers can actually use negative reviews to their advantage. In addition to responding to each individually, they can be used to address an issue and the consequential changes.
If you've gotten one too many reviews about bad service, use your website to make an announcement about how you're changing your service standards or training techniques.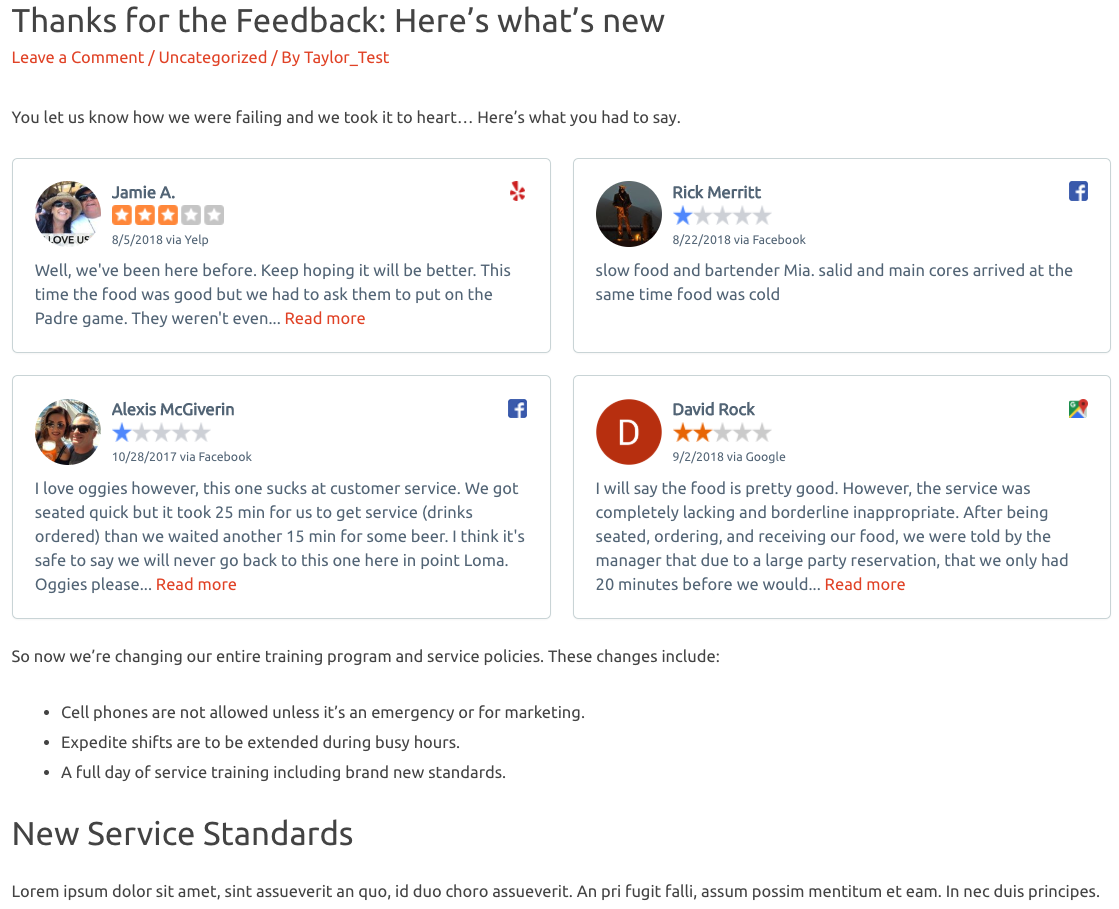 Share Positive Customer Experiences
Aside from making changes and addressing issues brought up in reviews publicly, you can also try to bury your negative reviews with the positive ones. A large positive review wall with all of your positive reviews mashed up will do the trick.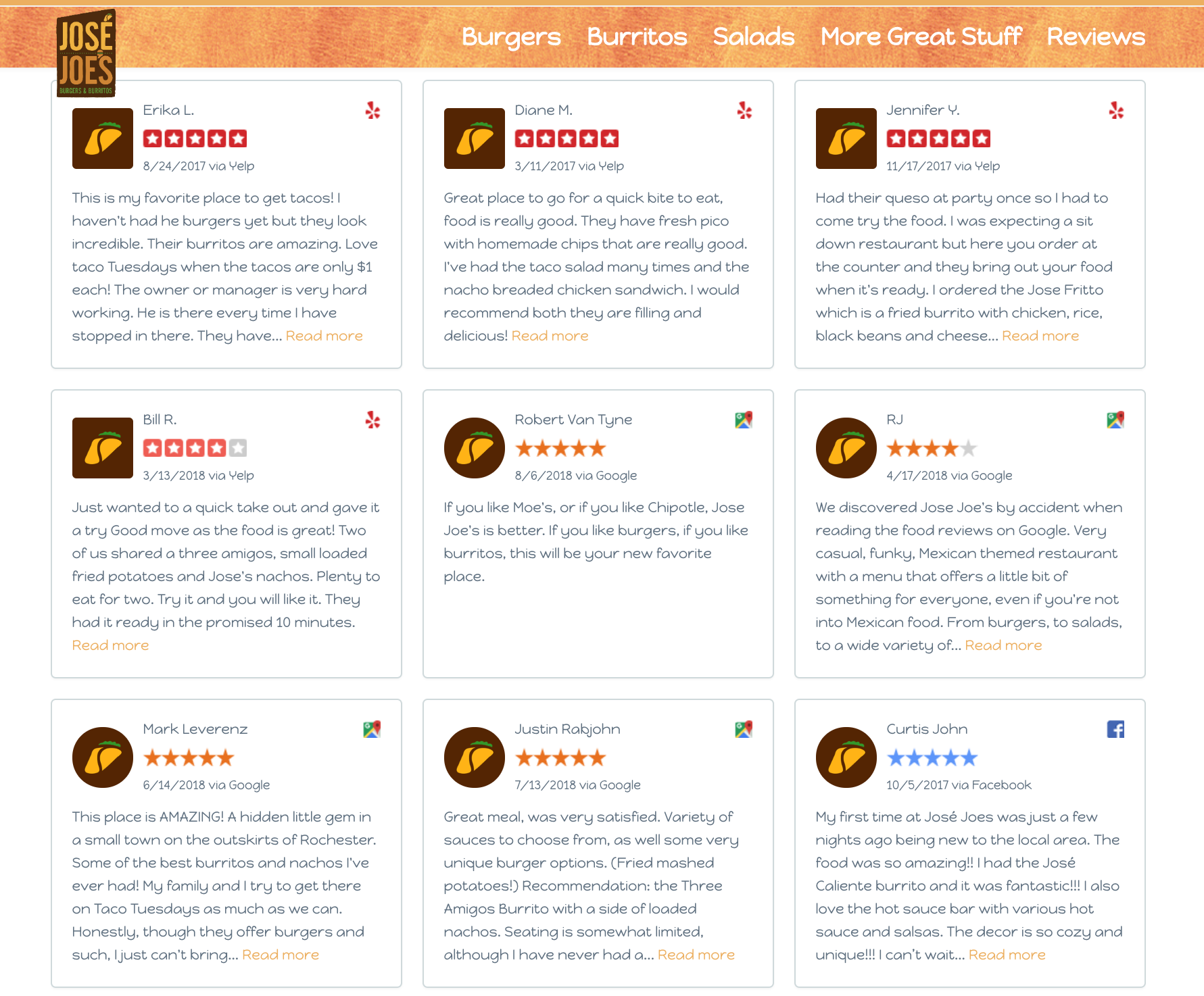 You can also display your reviews by subject to make it easier for your potential customers to understand what there is to love about your business.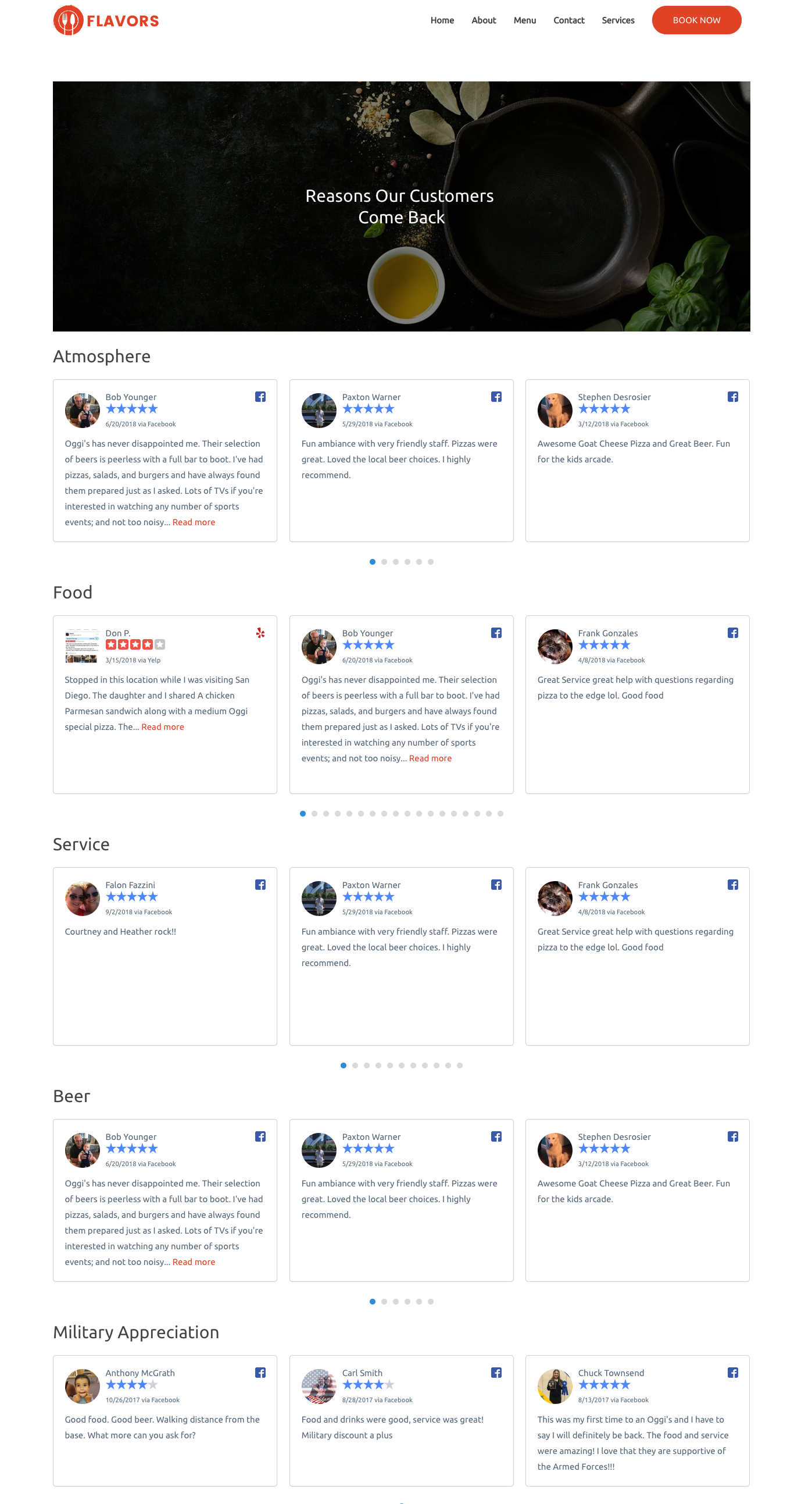 Control Your Online Reputation
Unfair reviews are inevitable, but you can use them to your advantage. You can also simply drown them out with better ones. When in doubt, just remember these five steps.
How to Remove a Review from Facebook:
Respond Publicly
Send a Private Message to the Reviewer
Report the Post to Facebook
Get More Positive Reviews
Showcase Your Best Customer Experiences
Your best option is to combat each negative review head on and make sure you're addressing real customer concerns within your business.
For more tips to keep your online reputation under control, sign up for our newsletter.