Reviews are great – no, reviews are amazing. A great online review not only reflects well on your business, but can help you earn more customers. Usually, though, reviewers scatter your reviews all over the internet. Google, Yelp, Facebook… How the heck are you supposed to make them work for you if they are all separate?
Your website serves as the central hub for your business. It's where all your messaging converges. Why not mix up all the best reviews from your various platforms? Then, you can display them on your site in one easy-to-find place. Set it up so that all your review rivers flow straight into the gorgeous ocean that is your website. That means all the things you want: better traffic retention, higher conversion rates and an increase in sales.
You may be asking yourself – sure, easy for you to say, mystery author. You're not the one who has to do all the hard, technical work of making the reviews from many sources show up in one place! True, I'm not the one who has to do it. But neither are you! WP Business Reviews does all that for you in an automated and elegant way. All you have to do is plug in a few key components, and the rest takes care of itself.
Follow these 5 simple steps to display reviews from many sources together on your site.
Step 1: Set up WP Business Reviews
You know the drill. WP Business Reviews, while exceptional, is a plugin like any other.
From your WordPress dashboard, go to Plugins and then click "Add New". Upload the WP Business Reviews .zip file you got when you purchased the plugin. Then, install and activate it.
Now, connect all the platforms on which you have reviews. For this whole process to make sense, you should connect at least two. Go to Reviews > Settings to begin connecting your platforms.
If you need more help with this part, take a peek at our documentation.
Step 2: Collect Your Online Reviews
Next, create a Collection for each platform. A Collection is like a bucket into which you pour your reviews.
Go to Reviews > Collections. Start adding Collections based on the platforms you've connected. You don't have to worry about configuring the settings for these Collections right now. We aren't using these on the front-end of your site at the moment. 
Keep in mind that there are limitations to some of the platforms APIs. Google Reviews will only serve 5 reviews at a time. Yelp gives you 3 and Facebook gives you 24. We know, it can be a pain. But, there is a simple workaround.
If there are reviews that the platform's API did not pull in that you want, add them as Single Reviews! Check out how to add Single Reviews in the docs.
Keep in mind that every review in WP Business Reviews is considered as a Single Review, whether you add it manually or through platform Collections. 
Step 3. Tag Your Reviews
Now comes the fun part! Tags make this whole process possible. They allow you to create a relationship between multiple reviews across different platforms.
The Single Reviews screen shows you all the Single Reviews you created, plus the reviews you pulled in from platform Collections. Every Single Review that you added is in this list.
Maybe you only want to include certain ones in your Collections, or maybe you want them all. Use the checkboxes that run along the left hand side to check off all the reviews you want to include in your "master" Collection.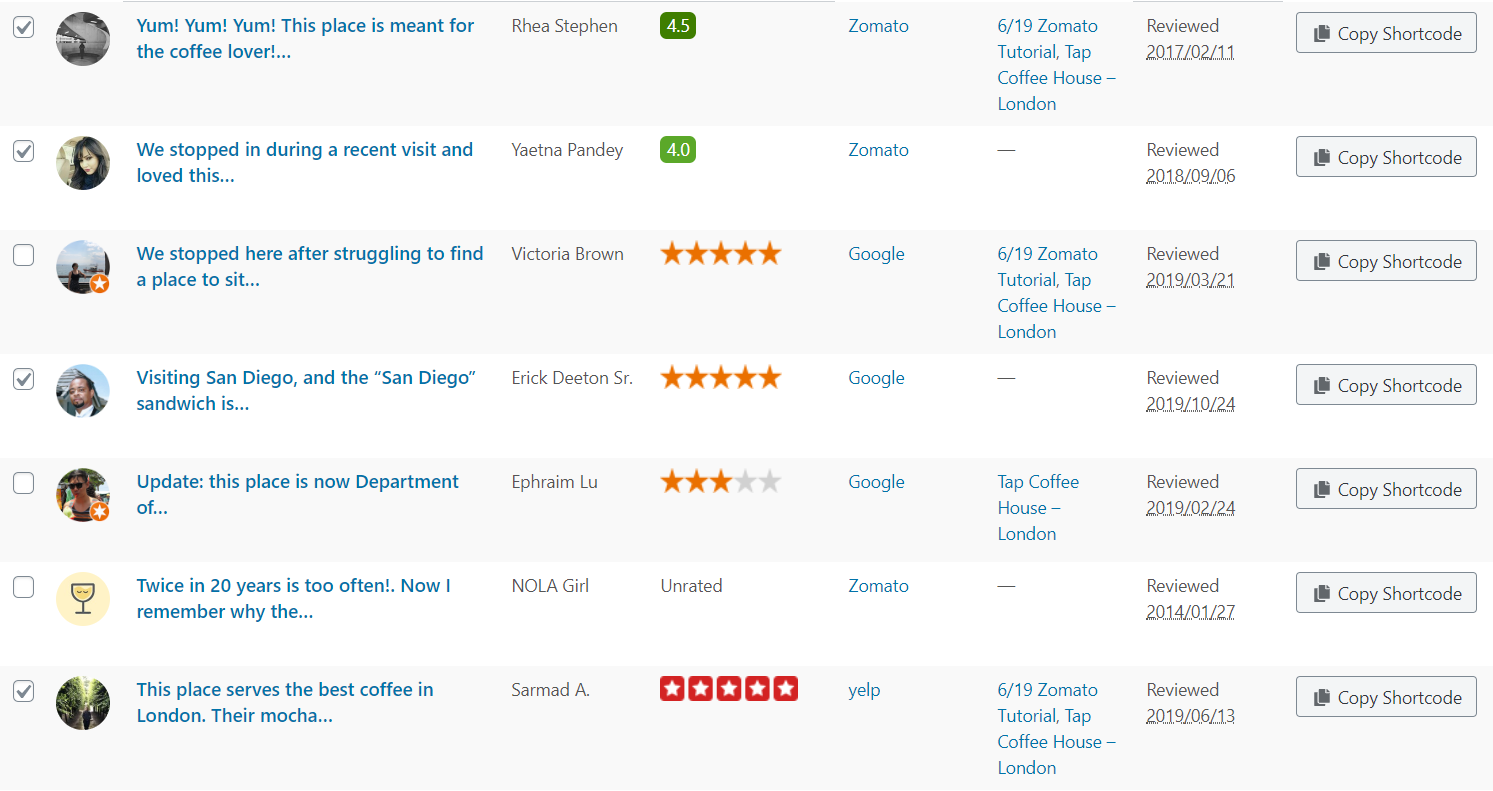 Once you have them selected, click "Bulk Actions," then edit, then "Apply". A window will appear that will let you edit all the reviews you selected. In the Review Tags box, add the name of the tag you want to create. We used "master" below.
Click "update". You'll see the tag now applied to every single review you selected!

Step 4: Create a Tagged Collection
Now that you've applied the same tag to all your reviews, you'll need a single bucket (Collection) to put them in. Go to Reviews > Collections > Add Tagged Collection.
At the top right corner, you'll see a Review Source area and it will list all your tags. Select the one you just created, click Apply Changes, and presto! You've pulled all your tagged reviews into the Collection.
Have some fun customizing and styling your Collection. (I'm partial to the carousel, myself.)
TIP: The Collection may still group the reviews by platform, even though they all appear in the same list or carousel. To truly shuffle your reviews, choose another "order by" option, like date, until you find an order you like.
Step 5: Display Your Mixed Reviews Collection On Your Site
Now even though we're done with building the Collection, we still need to put it up on the site for all to see! Otherwise you did all that work for nothing. First, make sure you save your collection.
When viewing the edit screen for your Tagged Collection, click the "Copy Shortcode" button. That will copy the shortcode for the Collection onto your clipboard. Paste it onto any page of your site to display it. Like, right here:
While you can put the Collection anywhere on your site, there are a few places we recommend:

Your homepage. After all, that's usually where your visitors will land first.
Below a menu – if you're a restaurant, of course. Once someone gets an idea of the yummy food you offer, they'll want to see that others have enjoyed it, too. You might even have a "services" menu for a service-based business. Try adding reviews about your specific services alongside them.
A dedicated Reviews page, which you can link to from your top navigation menu.
A product page. This allows the reviews the complement all the details about your product or service.
Generate More Sales With Tagged Collections
Show everyone no matter where your customers are on the web, they love you and your product or service. Showing off your company's presence across the web is impressive to new buyers.
It's easier than ever to create a mix-and-matched Collection of reviews from around the internet with WP Business Reviews. It only takes minutes, after all! And it proves that you take your reviews seriously. Not everyone trusts Yelp reviews, while some live by them. Give your visitors all the social proof they could ever ask for!
Curious to see how easy it is to build a Collection like this and get up and running with WP Business Reviews? Book a demo or buy now!