We've had over 200 users involved in our beta testing campaign for WP Business Reviews. From all the feedback and accolades, we've doubled-down and focused on the things user want most.
Beta testing is a crucial part of releasing new products. Before releasing to users, we product creators are building what we think makes the most sense to the most amount of people. But, you can never truly know that until you get as many people as possible to actually use it for their real-life needs.
We just closed our beta campaign, but users are still submitting their feedback continually — and we're still listening. We've been very encouraged by all the great praise and critical feedback we've received.
This article will give you an overview of how beta testing is going and where the plugin is headed.
Users are Loving WP Business Reviews
So far, the response from users has been excellent. People love how easy WPBR is to set up, the intuitive interface, how clean and uniform the reviews are on the front end, and many other aspects.
Here's a taste of a couple great responses from users: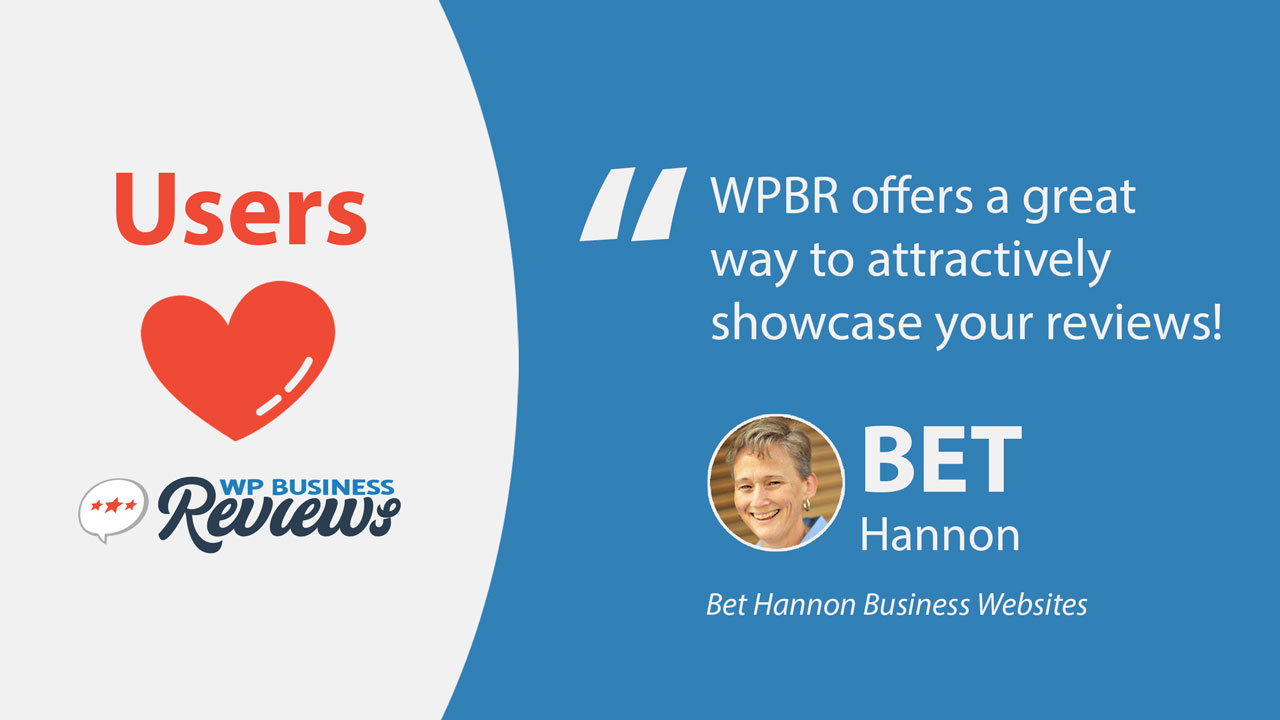 Some Constructive Feedback and a Roadmap
Naturally, we're in beta, so there are some features that still need improving upon, and minor bugs to work out as well. Here's a quick list of some of the things beta users have told us and what we're doing about it:
Mashups — The ability to create a gallery from multiple platforms.
This is a TOP priority for us, and we're excited to release this new feature ASAP. We're calling them "Tagged Collections" because you'll group your Mashup by tagging your existing reviews. We think tags are a powerful feature on their own, and they make Mashups even easier and intuitive. Beta users should watch for an update ASAP with this feature included.
Here's a few previews of what we've already got working in development on this feature.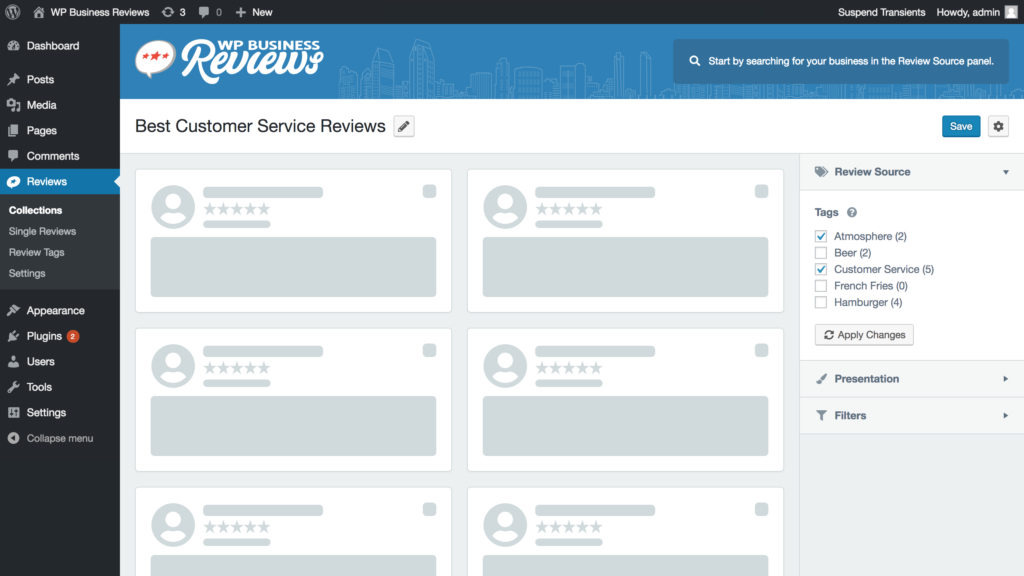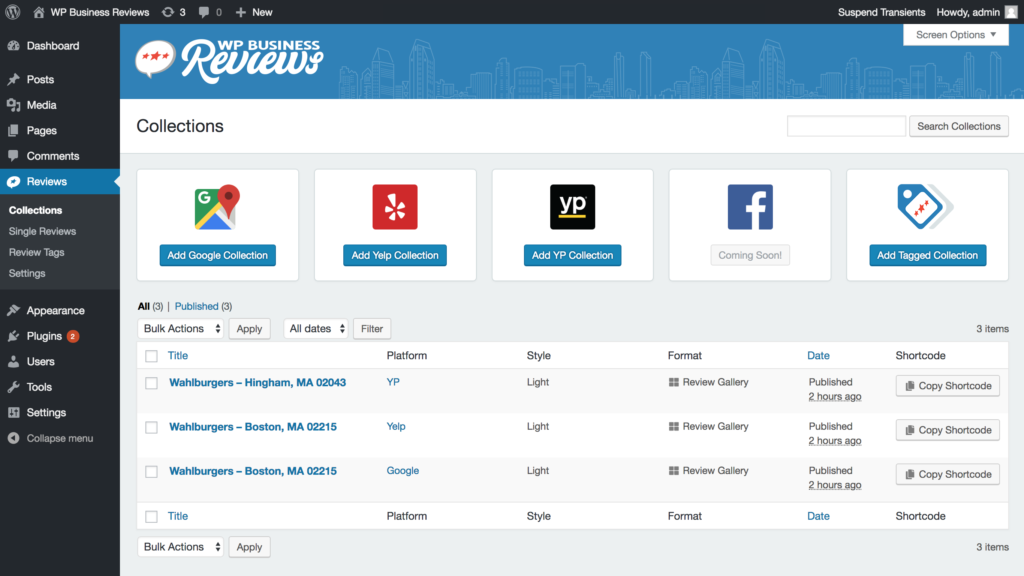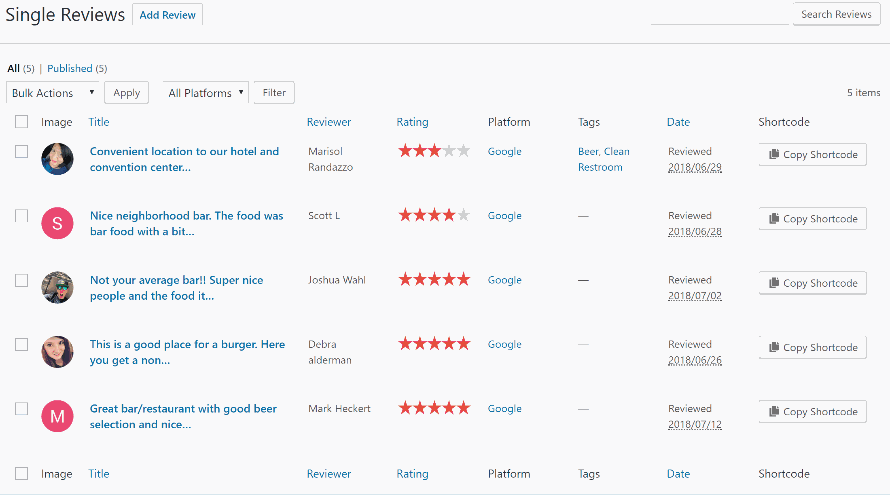 Carousel galleries — Having a slider gallery format which displays one to three testimonials at a time where visitors can navigate from one page to the next with button navigation.
This is our next priority after we finalize Mashups. We think the gallery formats can be a very powerful tool and we're excited to show you all the great ways your reviews can shine on your website.
Schema markup — Outputting reviews with schema markup for SEO purposes.
We've gotten this request from many users and we understand why people want it. I say up-front that our support for Schema markup will be limited, but for good reason.
We've researched this a lot. This is a bit technical, but essentially, Google says clearly that Schema markup is only intended for reviews "that have been directly produced by your site, not reviews from third-party sites or syndicated reviews." Google, Yelp, Facebook, and others are third-party sites to your site. Therefore, since the reviews originated on third-party sites, they should not include Schema markup.
BUT! Custom reviews that originate from your site absolutely should include Schema markup.
Hopefully, you noticed that WPBR includes the ability to add reviews individually and set the "Platform" as "Custom Platform." We're going to make sure that when you choose that platform, those reviews are output with proper Schema markup going forward. We think that's best practice and in your best interest as a business owner as well as for your website and search engine traffic.
Facebook Reviews — Adding Facebook reviews as a platform.
All the development for this feature is DONE. We're just waiting for Facebook to approve our app. The reason this is taking so long is that earlier this year, Facebook had a giant fiasco with a breach related to a group called Cambridge Analytica.
Since then, Facebook has required EVERY App to be re-reviewed by August 1, 2018, and new reviews are getting far more scrutiny. This just means the review process has really dragged on much longer. We have experience with these apps already and have no doubt our new WPBR app will be approved very soon, this process is just taking longer than it has in the past. As soon as it is done, you'll see an update go out with Facebook Reviews included.
More reviews — Creating collections with more reviews from Google and Yelp.
We've gotten a lot of feedback about this issue. Users are noticing that they are getting only a handful of reviews from Google and Yelp specifically.
Unfortunately, that is a limitation of those platforms themselves. Google only serves 5 reviews over their API, while Yelp serves only 3. They also serve them in a custom sort order that we have no control over.
Facebook, on the other hand, allows you to serve ALL of your reviews, but you must be an admin of the page you want to serve reviews with. So, each platform has their own limitations that we have to deal with.
This is part of the reason why we felt it important to ensure that you can also create Custom Reviews on your website. This is a manual process, but you do have the ability to display your business reviews on your website and properly attribute them to their source — so keep that in mind.
Custom Reviews are a great way to make sure you get all the reviews that you want on your website.
Additional plans to address adding more reviews:
Make it more clear directly in the plugin how many reviews you should expect from each platform.
Emphasize more clearly that Custom Reviews can be used as a stop-gap for the reviews you really want to highlight that aren't served over the API.
Help Spread the Word!
If you're enjoying WP Business Reviews, we'd love for you to tell your friends and colleagues. Here are a few great things you can do:
We just kicked off our blog with a post called "Why Every Website Needs Reviews." Share it on social media or email it to your clients or colleagues.
Follow us on Twitter, Facebook, and YouTube. We plan to be sharing lots of insight and expertise on all things small business and reviews oriented.
If you are already using WP Business Reviews on your website live, share your page on Twitter and at-mention us with @WPBizReviews and/or the hashtag #ReviewsMatter We'll be sure to re-share it as well.
Thanks again for your continued interest in WP Business Reviews.