WP Business Reviews is a new WordPress reviews plugin that gives business owners and marketers the ability to display their best reviews from platforms like Facebook, Google, and Yelp right on their WordPress websites.
Until now, online reviews have been scattered across multiple websites, making it difficult for your business to take full advantage of the social proof they have to offer. What if your potential customer only looks at a single platform like Facebook? Or what if they visit your website directly and miss your reviews altogether?
WP Business Reviews Ensures Your Best Reviews Get Seen
Empowered with the tools to access, organize, filter, and display reviews from multiple platforms, your reviews can finally make an impact where they matter most—your website.
Build Your Collection of Reviews
WP Business Reviews makes it easy to quickly create collections of your existing reviews from platforms like Facebook, Google, Yelp, and Yellow Pages (with more platforms on the way). Building a collection takes place entirely within your WordPress dashboard, so you can manage your website's content and reviews all in one place.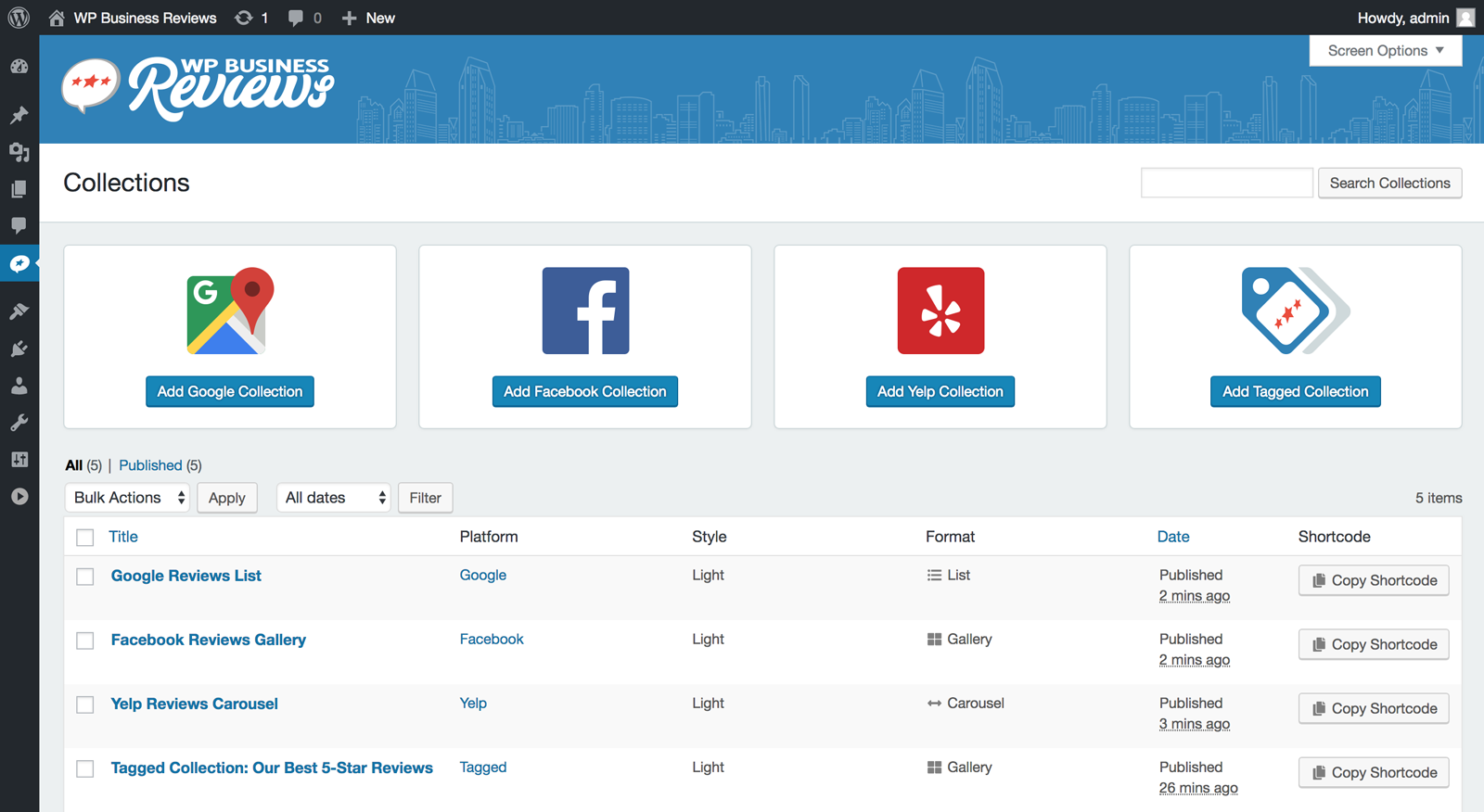 Fine-tune Your Presentation
Presentation is one area where WP Business Reviews really stands out from other WordPress reviews plugins. Format your reviews in a responsive gallery, carousel, or list. Style your reviews with light and dark options, or let them blend seamlessly into your WordPress theme. You even have control over the number of characters displayed in each review.

Filter Negative or Blank Reviews
Once you've created a collection of reviews, you may find that a lousy one-star review is sticking out like a sore thumb. Or perhaps a blank review is throwing off an otherwise perfect layout. Not to worry, the powerful filters within WP Business Reviews give you complete control over which reviews get displayed on the front end of your website.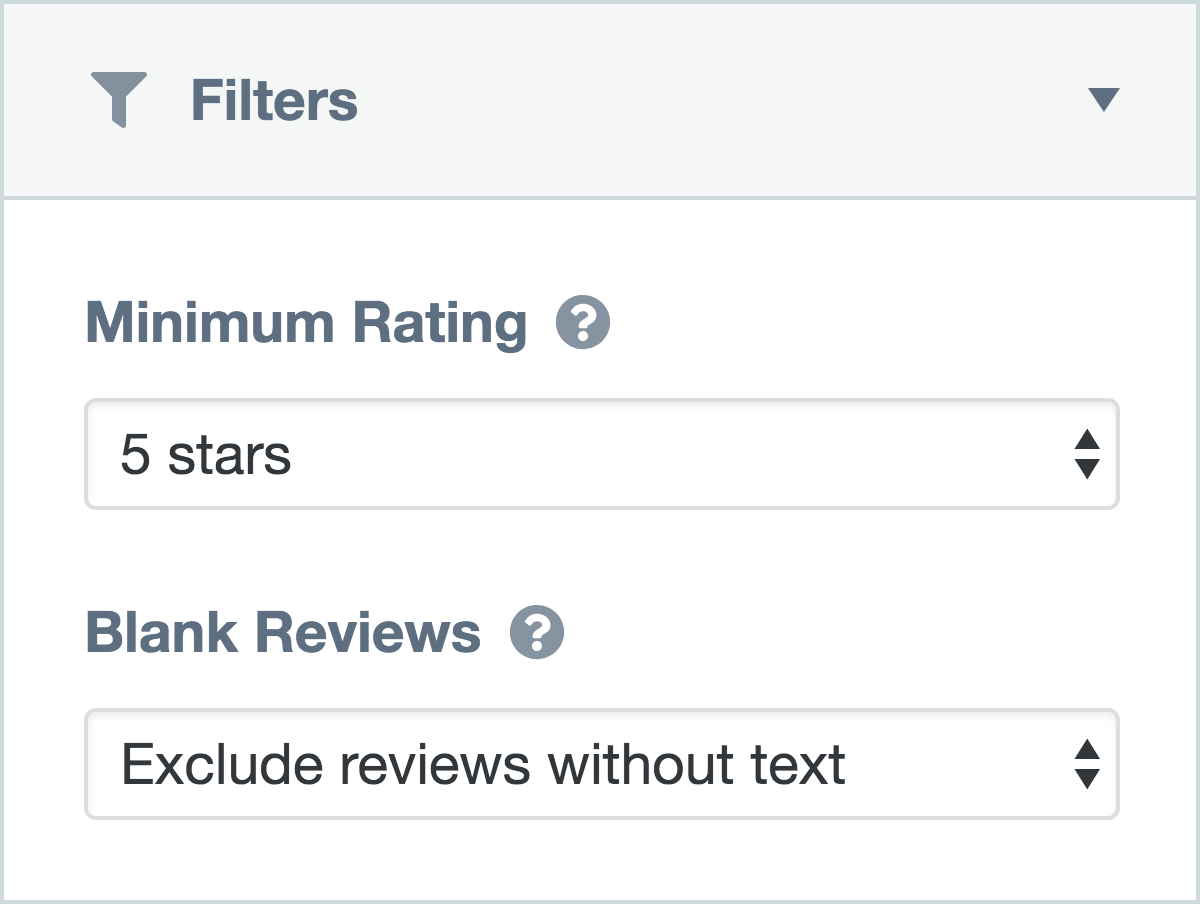 Add Your Own Custom Reviews
In addition to accessing reviews from other platforms, WP Business Reviews also allows business owners to add individual custom reviews. These single reviews can then be tagged and added to collections alongside the rest of your reviews.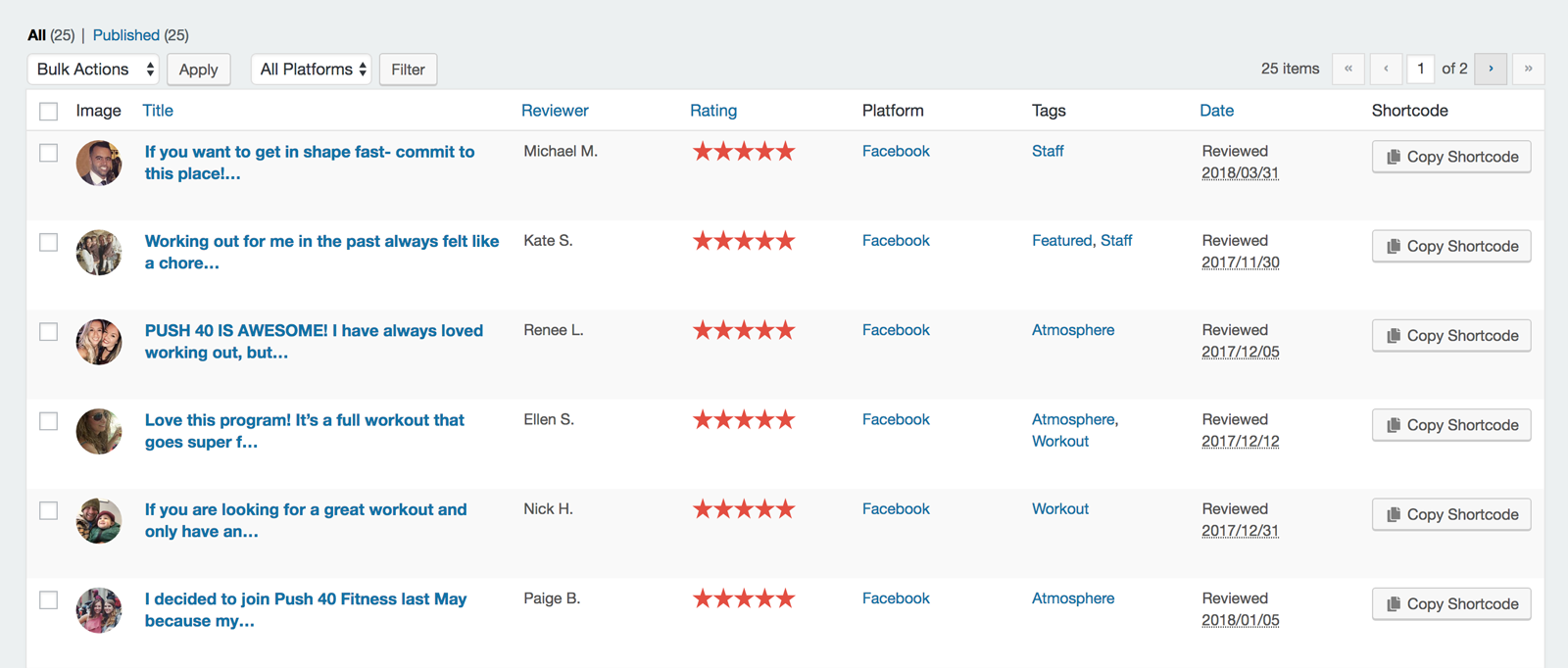 Display Reviews from Multiple Platforms Together
Imagine that a restaurant owner has a Catering page and wants to display all reviews that mention "catering" alongside the menu on her website. With Tagged Collections, you can include two reviews from Facebook, three from Google, and another from Yelp all related by subject matter, rating, or any other relationship that you see fit.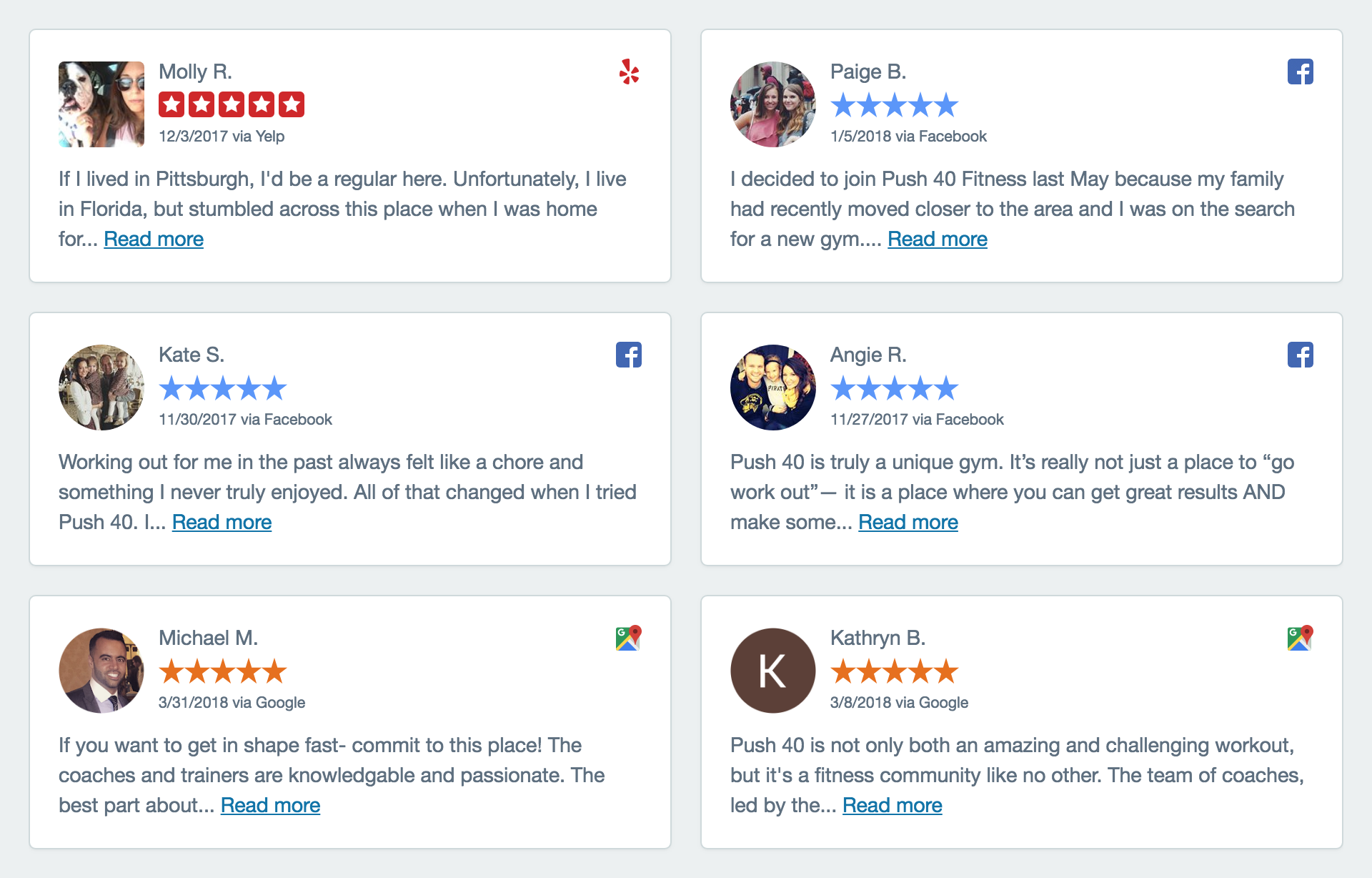 The History of WP Business Reviews
WP Business Reviews is the result of years of experience in the development and support of our previous WordPress reviews plugins. Years ago, business owners might have only established a presence on one platform such as Google, but today's savvy entrepreneurs understand the advantages of acquiring reviews from multiple sources.
As developers, we also saw the benefits of combining our efforts towards one reviews plugin so that new features could be developed once and shared by all. After a successful beta test, the new WP Business Reviews plugin was launched on August 1st, 2018.
The Future of WP Business Reviews
Now that WP Business Reviews has launched, we plan to expand upon the solid architecture of the plugin by adding new review platforms, formats, and styles in the near future.
With the upcoming release of the Gutenberg editor, you can also expect WP Business Reviews to take advantage of the new block editor while still delivering value to those who may decide to stick with the classic editor. Whatever the future of WordPress holds, rest assured that the WP Business Reviews team is prepared and excited for the road ahead.
How Do You Get WP Business Reviews?
WP Business Reviews is available right now. To celebrate the launch of the new plugin, we're offering a limited-time discount when you purchase by August 31st, 2018:
$79 Single-Site License (regularly $99)
$129 Five-Site License (regularly $149)