Do your employees have the training and resources they need to give great customer service?
Good products and services are important for receiving good reviews, but it's only part of the equation. The other part is how your business interacts with the customer. Who do they interact with? Where? How? How are your employees empowered to work through issues with your customers? The answers to these questions may impact your reviews more than you think.
Employees who have direct contact with the customer make or break individual experiences with your brand. Their ability to provide good customer service impacts the overall perception of your business. Empowering those employees to create an excellent customer experience is important for your company's reputation.
How Does Employee Empowerment Generate Positive Reviews?
Negative emotions can get out of hand very quickly and result in terrible online reviews. Empowering your employees to resolve issues expediently keeps that from happening.
A customer feels validated when their issue is resolved by the first employee they speak to. When employees have to "get a manager," it makes customers feel like your business thinks they're unreasonable.
If the service was slow but the server offered an appetizer in the meantime, a diner is more likely to leave a great review (hey, free food!). If a customer on the phone or chat is met with "I understand what went wrong and here is what we can do to fix it," then they are more likely to leave a positive review, too.
Five-star reviews come from happy customers. Happy customers come from positive experiences.
These experiences are shaped by the employees on your frontlines, not by the managers or the owner. The more time that passes between a complaint and resolution, the greater the likelihood for emotions to escalate.
Who is on Your Frontline?
All businesses have employees at various levels of interaction with the customer. The goal is to determine which employees interact with customers and what level of connection they have. Investigate how they are empowered to provide satisfactory or exceptional outcomes.
Ask yourself and your employees:
What rules and company policies guide employees who interact with customers?
What tools are in place to help provide speedy customer service?
How do your customers approach these employees?
What issues and questions might customers come to these employees with?
Do your frontline employees have the authority to respond to customers quickly?
You might learn that some of your employees are not adequately equipped to provide the best customer service in their situation.
Where Do Your Employees Interact with Customers?
Who interacts with your customers determines where the communication takes place. Are your employees in a retail space where they are face-to-face with a customer? Are they interacting in real-time in another way (like on the phone or in an online chat)? Are your employees communicating only through email?
Where your customers interact with your employees tells you how quickly a response is necessary. In a brick and mortar setting where a customer is face-to-face with employees, immediacy is expected. Customers want a fast remedy to their situation. The same is true for online customer service chats or phone conversations. In such cases, employees need to make certain decisions regarding customer requests or complaints.
Ask your employees how you can help them have a more positive impact on customer happiness. These employees are living in the trenches, so it makes sense to gain their input. Thoughtfully consider their suggestions and act accordingly where possible. While every suggestion may not be feasible, we're willing to wager that many are.
For example, a restaurant server shouldn't have to ask the kitchen about permission for every possible substitution. Can't eat broccoli? Then yes, substitute a baked potato. Similarly, a retail worker shouldn't need permission to exchange a garment for a different size.
Your employees should also have quick replies to phone conversations or online customer chats. Consumers go online or call a business for an immediate response. When someone complains or has a question, solutions should already exist for your employee to offer. Whether it's to submit a support ticket to tech support on the customer's behalf, offer a refund, or send out a replacement part, empower your employees to do it.
If your employees don't interact with customers in real-time (i.e., they are replying to emails), then you have more freedom. There is more time to seek solutions from others in the company before sending a reply. But even then customer service training is important — perhaps even more so.
How Can You Empower Your Employees?
The best way to empower your employees to give better customer service is to provide additional training. This training should focus specifically on communication with customers as well as provide tools and resources.
Create a Culture of Great Customer Service
Create an employee manual that clearly outlines your company's tone, response time, communication, duties, and limitations. Make sure what you expect from your employees is clear and give them the tools they need to fulfill those expectations. Hold training sessions where you explain the processes. Then give your employees opportunities to put their new customer service skill to practice with role-playing techniques. Consider bringing in an outside expert to lead the workshops, giving more credence to your new methods and processes.
Encouraging a company "tone" or "voice" helps a customer's experience remain the same no matter who they interact with. How do you want your business perceived? Playful? Professional? Somber? Strive for your brand identity and encourage all employees to act accordingly. Allowing your employees to include their own "voice" in their replies to requests and complaints can help your messages sound more genuine, which helps especially if it's one that won't make the customer happy.
Additionally, make changes in an informed and consistent manner. Every employee in a certain position should have the same empowerment as others in the same job. Make sure employees know what the possibilities and limitations of their position are.
For example, maybe a server is enabled to offer an appetizer or soft drinks but they should never offer alcoholic beverages. Perhaps a call center worker can give a discount on a future product up to 20%, but not a discount on an already-purchased product. You can decide what is possible and how to share the information with your staff.
Provide Tools to Give Better Service
A Customer Service guide is a great start, but there are other things you can add to your toolbox to help your employees excel. Online interactions especially provide the opportunity to use a range of tools from chat platforms (for quick access to your team) to "canned" response software.
For quick online interactions, we recommend a number of tools, including the following:
Ways to Use Employee-Driven Reviews
Giving your employees the tools to give better customer service is just the first step. The next is to let them know how much of an impact they have.
Employee Recognition
When a customer leaves a great review and takes the time to mention an employee, then that employee deserves recognition. This will inspire your staff to go the extra mile to create happy customers. Use your imagination to give recognition while also keeping your budget in mind.
Here are a few ideas to get you started:
Make sure that the employee sees the review and understands how integral they are in the success of the business.
Send the employee a recognition letter for the good work they did and include a copy in the employee's file.
Institute an "employee of the month" program based on reviews and other feedback and post it prominently. Make a special badge or pin for that employee to wear when working with the public.
Reward employees with prizes or other incentives (time off, catered lunch, etc.) for receiving great reviews.
Post Reviews on Your Website
When someone generates a great review, you can boost the employee's recognition by also posting it on your website. With WP Business Reviews and some creativity, the possibilities are endless.
Here are some ways to display employee-driven reviews:
Use a tagged collection for each employee. Show those reviews on your staff pages for each employee. This works great for realtors, salons, and spas, for example.
If you own a bar or restaurant, create a page with your employees' names and a great photo of each. Then put their reviews there. Show people why someone is a great bartender or server.
Do you have an employee of the month program? Then put that employee and their reviews in a special place on the homepage or on an"Employee of the Month" page.
Embed WP Business Reviews Collections and individual reviews on your site to showcase reviews left about employees in a sidebar or carousel.
Create an accordion for your website with each employee's reviews like this Remax office did.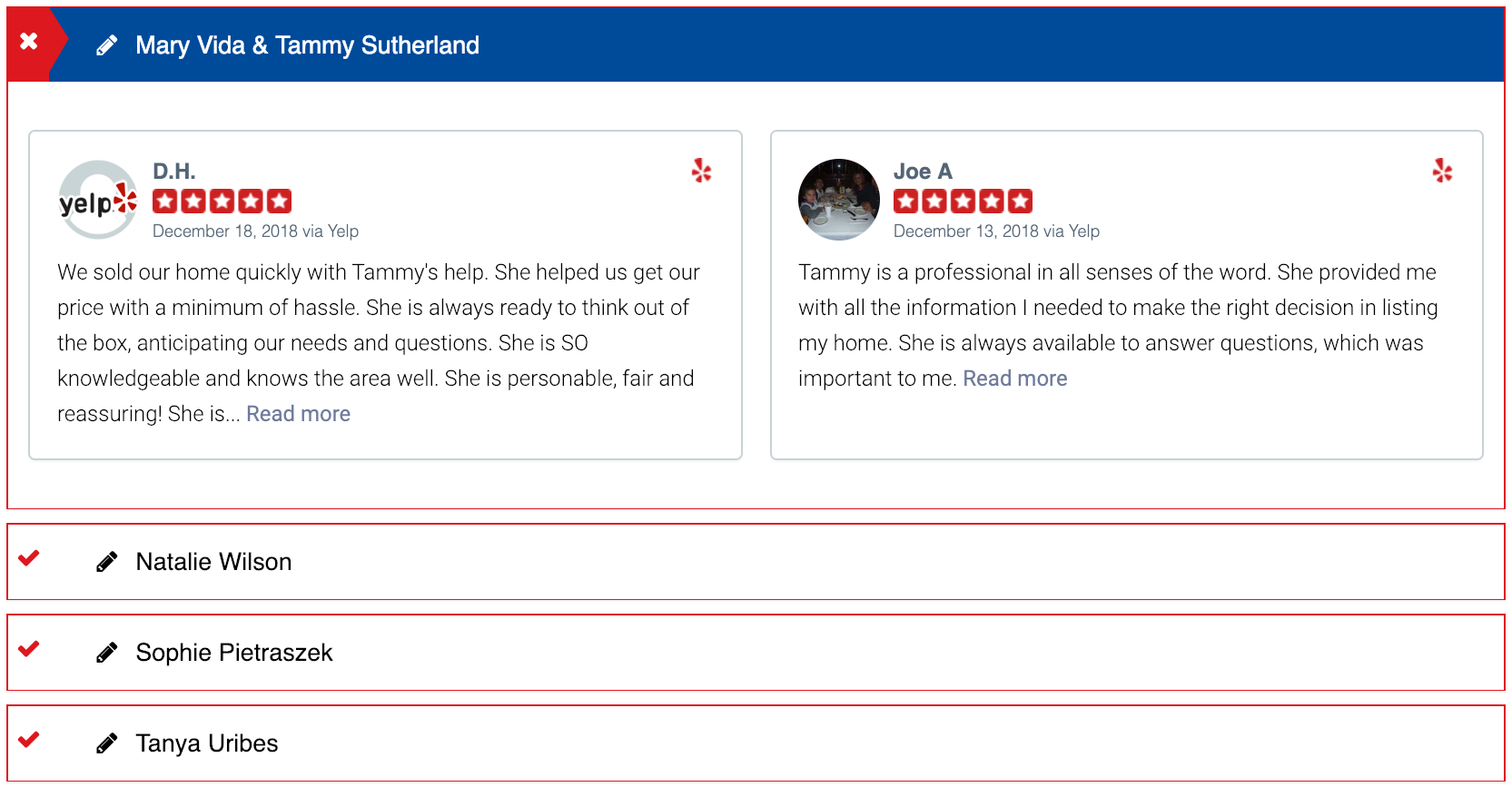 What Do You Do to Empower Your Employees?
Tell us in the comments how you empower your employees. What ideas are you excited to try? How do you share your reviews with the world?