Whether you choose to purchase ads or use the free tools Google Adwords has to offer, it's a great resource to drive more traffic to your website and your business.
Search Engine Optimization Specialists (SEOs) use Google Adwords to build keyword research reports and business owners use the tool to run ads in the online marketplace.
The goal of using Google Adwords as a local business owner is to drive traffic to your website and ultimately to your brick and mortar location. While it seems pretty straightforward to create and run ads, get clicks, and achieve conversions, it's a bit more complicated than that.
But, do I need to spend money on ads to use Google Adwords?
No! That's the best part: Google Adwords is a free tool provided by Google that was created with the intent of running ads. However, it isn't necessary to have an active campaign to use the tool.
Adwords can provide exactly what you need for optimizing your marketing strategy without ever spending any ad dollars. But, investing in ads does elevate your knowledge of your specific niche and offers you more specific data to work with.
We'll discuss both options: choosing to use Adwords for free and choosing to invest in ads. Then we'll take a look at how using both methods is the most wholesome approach to producing results.
Leverage the Google Keyword Planner to drive traffic without spending.
If you choose to only use the free tools Google Adwords has to offer, you have several great options. Within Google Adwords is Google's Keyword Planner which allows you to conduct in-depth keyword research by submitting words, phrases, or URLs to find related search queries and worthwhile competitor insights.

An important distinction here: Keywords and search queries are NOT always the same. Keywords are broad and represent a multitude of potential search queries. Your keywords are used in Adwords to compete with other businesses where search quieres are those phrases that searchers type into Google.
To get started, go to your Google Adwords dashboard. You'll find Google's Keyword Planner by navigating to Tools, Planning, Keyword Planner.

You'll then have a choice to either search for new keywords and phrases to work with or search for volume and forecasts with your own list of keywords.

I recommend using each option for different functions in your keyword research:
Find new keywords

Find related search queries to your ideal, target keywords and get to know how your customers search.
Enter a competitor's landing page that you want to compete with and find a more expansive list of similar search queries to use.
Get search volume and forecasts

Get a better understanding of your existing keyword lists.
If you have a list of your competitor's keywords, use this option to discover trends and historical metrics for those terms.
Focus on building your keyword lists with informational, educational, question-based, and local keywords versus keywords that are highly competitive and have high commercial intent (like products, service, and brand names – transactional key terms).
Use your lists to write excellent content and ultimately rank higher in Google's organic search. Better search results mean more traffic to your website. More traffic to your site means more foot traffic to your brick and mortar business.
Get Google Tips
Subscribe to stay updated on the latest digital marketing strategies for Google and other platforms.
How does running a PPC campaign drive traffic to your local business?
We've covered your free options, but the paid options on Google Adwords will enhance your effort to increase traffic to your business.
Online advertising, especially on Google's platform, can be a highly lucrative endeavor. While Google's Keyword Planner is a great aid in boosting your keyword know-how, it doesn't get you at the top of search right away like ads can.
In just the last few months you may have noticed that Google is presenting ads in new and expanded ways across its platform. So there are plenty of opportunities to get your brand out there.
WordStream released some new data about paid ads in October of this year, sharing that their research showed:
"Clicks on paid search listings beat out organic clicks by nearly a 2:1 margin for keywords with high commercial intent in the US. In other words, 64.6% of people click on Google Ads when they are looking to buy an item online!"
It's important to keep in mind that organic clicks still beat paid clicks overall. However, not all search queries are the same. This data tells us that certain keywords are great for ads while others aren't.
Using high commercial intent keywords on your ads is better than using them in your content for organic SEO. Someone looking to take the plunge from potential customer to making a purchase is more likely to search for a transactional term and also click on your ad.
Improve your ad quality for more traffic to your local business.
In order for your ads to be effective, they must compel the searcher to click without hesitation.
Your ads should answer a question, offer a solution, provide an incentive, or do something of the sort to grab your ideal customer's attention and motivate them to take action.
Google analyzes a large pool of ads from Google Ads advertisers for competitive keywords. In order for Google to organize and qualify who gets placed at the top of the page it uses a quality ranking system. This system identifies which among the many of ads for each keyword is the best, most relevant ad for the search query.
We know that there are many different things that will influence the quality of your ads in Google. Some of those things to consider are ad relevance, ad copy, keyword use, click-through-rate, and the ad landing page functionality.
Above all, the quality score for your ads is really determined by how well you know your niche and how strategic you are with your keywords and competitor research.
Let's dive into the most important elements to focus on to create high-quality ranking ads:
1. Click-Through-Rate
There are several factors that contribute to the quality ranking score of your ads. However, click-through-rate (CTR) is the most important right now. CTR is a percentage measuring the number of clicks an ad receives per the number of total impressions (or total reach).
A typical CTR is around 2% if the ad is performing well. But brand keywords and others with high commercial intent can receive CTR of 30 – 60% or higher in some cases.
Analyzing and working to achieve higher CTR is more of an art than a science. It requires us to really get to know our industry and competitors. It's important to know how others are showing up in search and where we can fill in the gaps.
Here are some helpful tips for improving your ad CTR:
Use keywords with high commercial intent for your industry (people are ready to buy or visit a store like yours) within your ad title and ad copy. These keywords will be your products, services, brand name, business location, etc.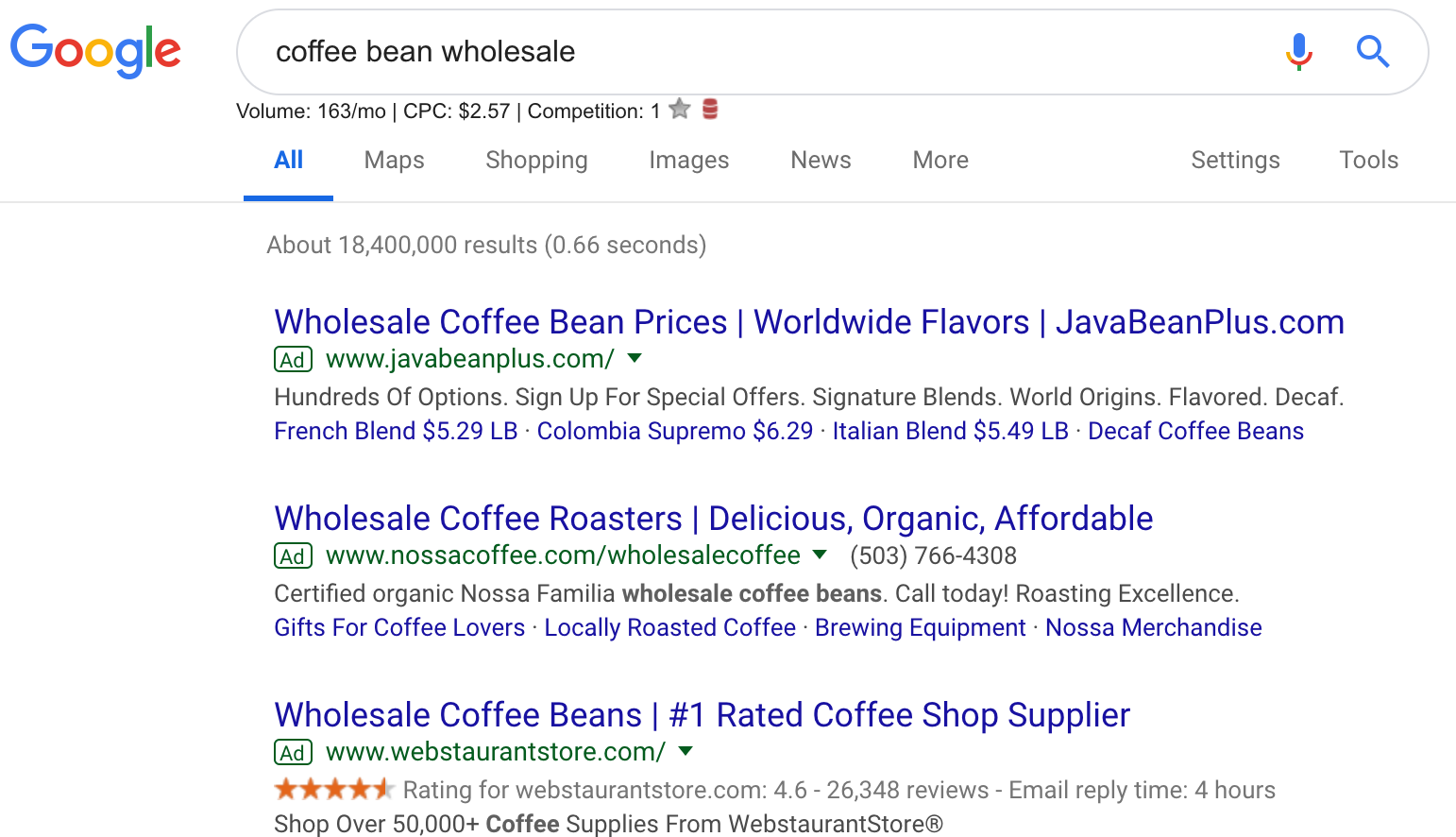 Use numbers within your ad title like percentages off if you are offering a discount or showing a price drop.
Use the location and map extensions when building your ads to show your customers where you're located right away.
Experiment with the different types of ads Google has to offer other than the standard text-based ads. Try display, shopping, and video ads.

2. Use of Long-Tail Keywords
Using the keyword research you've built with Google Keyword Planner, find longer keyword phrases that are very specific to your niche and use these within your ad copy. It's difficult to rank for highly competitive keywords in organic search and there isn't much of a difference for paid search campaigns, either. There's less competition for long-tail keywords. That's why using them is so effective.
3. Unwavering Dedication
No matter how you choose to approach your online advertising strategy, it's crucial that you invest the proper amount of time researching, creating, running, and maintaining your ads.
New ads are created every day, with some big advertisers spending up to $50 billion each year and small businesses spending on average $9 – 10K each month on ads, according to WordSteam. Needless to say, it's a highly competitive place to advertise. So if you want to maximize your investment and your efforts, it's in your best interest to pay attention to your ads daily.
Tactics like A/B testing and ad copywriting testing are some great ways to get specific data from the ads you're running. The more insights you can gather from your active ads, the better you can hone in on your niche market and what works for your business.
Within 90 days, you should see some results coming in from your Google Adwords campaign. Whether they're the results you want to see is determined by the consistent action you take in managing your ads.
What works for you?
Online advertising is an art in terms of the approach you take to achieve the results you desire. The best way to learn is to get your hands dirty and immerse yourself in the Google Adwords tool, the Keyword Planner, and the research that's needed to clarify your strategy.
What's worked best for you and your business? Let us know in the comments.