Let Your Customers Do the Talking
Today's reviews are the new word of mouth, the most effective marketing tool ever to exist. Use our WordPress review plugin to display your best reviews from platforms like Google, Yelp, and Facebook right on your website.
Your Best Reviews, Beautifully Presented
WP Business Reviews lets you showcase your reviews so you can promote your best customer experiences. Mashup reviews from multiple platforms or display reviews from just one. Filter negative reviews, add custom reviews, and display them in a beautiful layout.
Devin Walker

Neighborhood is a great place to go after a Padres game, for a few drinks after work, or just to grab a bite to eat. Good food and awesome beers.

Jason Knill

Consistently GOOD. This is always the first stop when we're in SD. Great atmosphere and consistently good food. Their mac 'n' cheese is to die for.

Matt Cromwell

Get the grilled cheese with tomato soup! It's sooo good! And the garlic french fries! The burgers here are a good size and super delicious, too!

Taylor Waldon

What a great place to meet friends for good food and great service. From the moment you walk in, the Neighborhood staff make you feel right at home!

Ben Meredith

Good Beer. Good Burgers. Great Service. As with any San Diego bar, the beer selection is great with a mix of local and imported options.

Ravinder Kumar

This quaint little restaurant in downtown SD offers customers a modern twist on traditional food items. The ambiance is perfect. Lively but not too loud.
73
%
of consumers trust a business more if they have positive reviews.*
82
%
of U.S. adults read online customer reviews before purchasing items for the first time.**
85
%
of consumers trust an online review as much as the recommendation of a friend.*
97
%
of people looked online for local businesses in 2017.*
Sources: *Bright Local | **PEW Research Center
Watch Your Reviews Come to Life
Our user interface makes building your collection of reviews intuitive and fun. Organize your reviews by tag. Tweak the style and format of their presentation. Then embed those reviews right on your WordPress site.
View Pricing
Build Your Collection of Reviews
We've built a powerful user interface that allows you to search, style, and sort your reviews directly from the WordPress dashboard. Collections allow you to group reviews together, while still offering control over each individual review.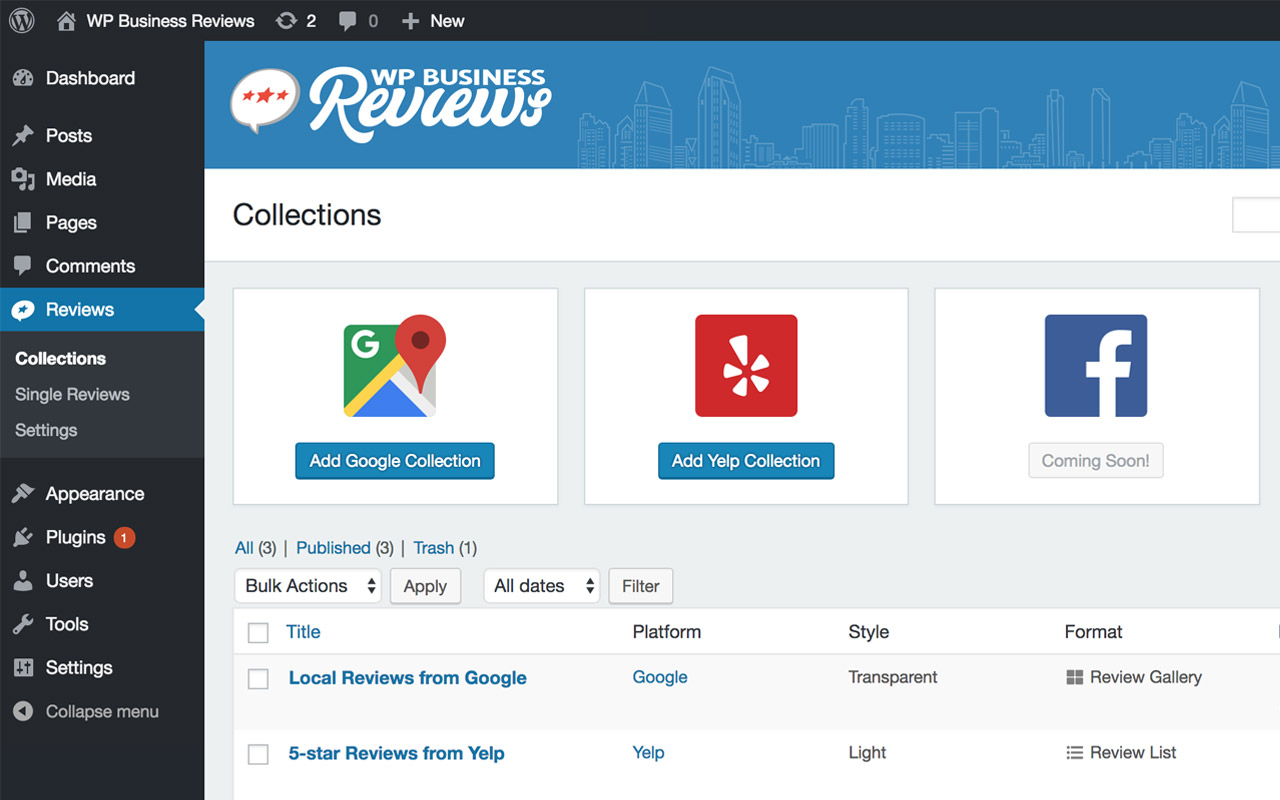 Craft the Perfect Presentation
Choose between a light, dark or transparent style and select from multiple display formats. Create a clean layout by taking control over the length of the excerpt posted from each review and toggling the review components to best suit your needs.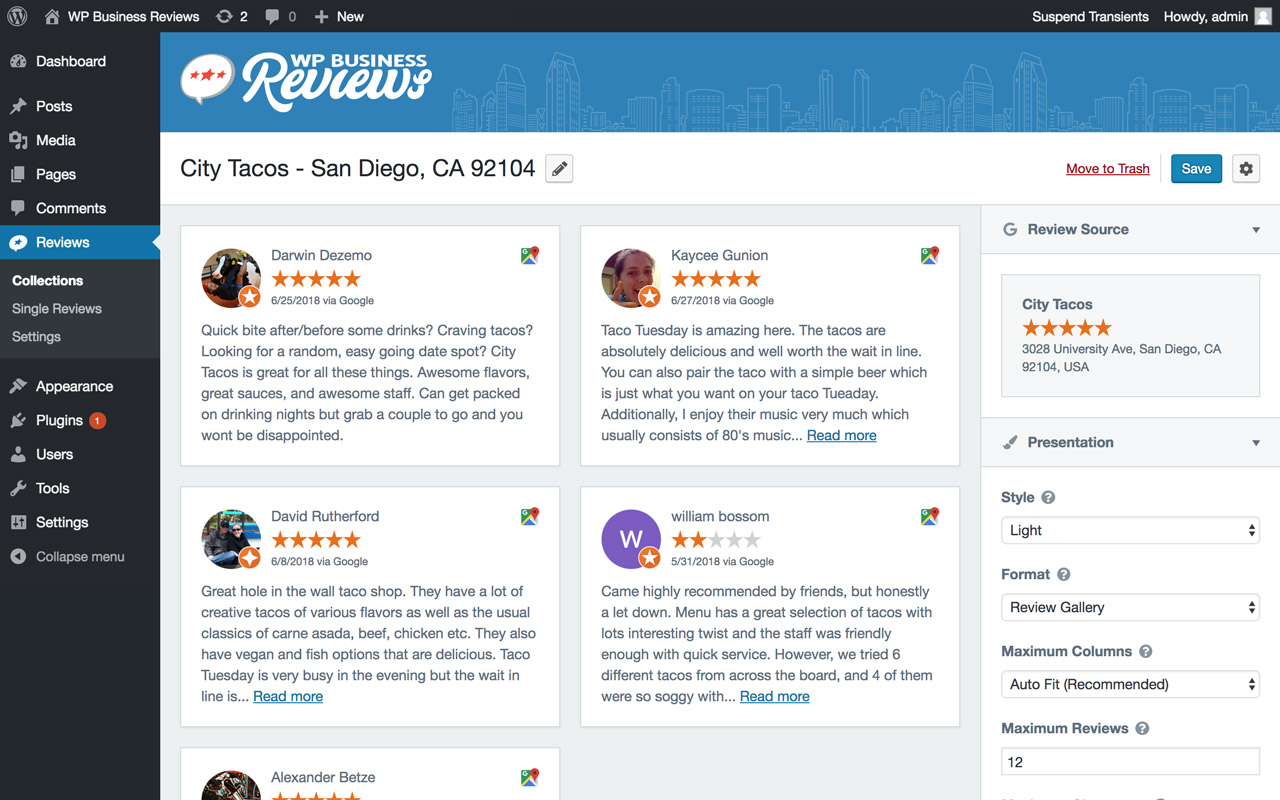 Filter Negative Reviews
Never display a negative review again. Set the minimum rating allowed and ensure that only your best reviews are promoted on your website.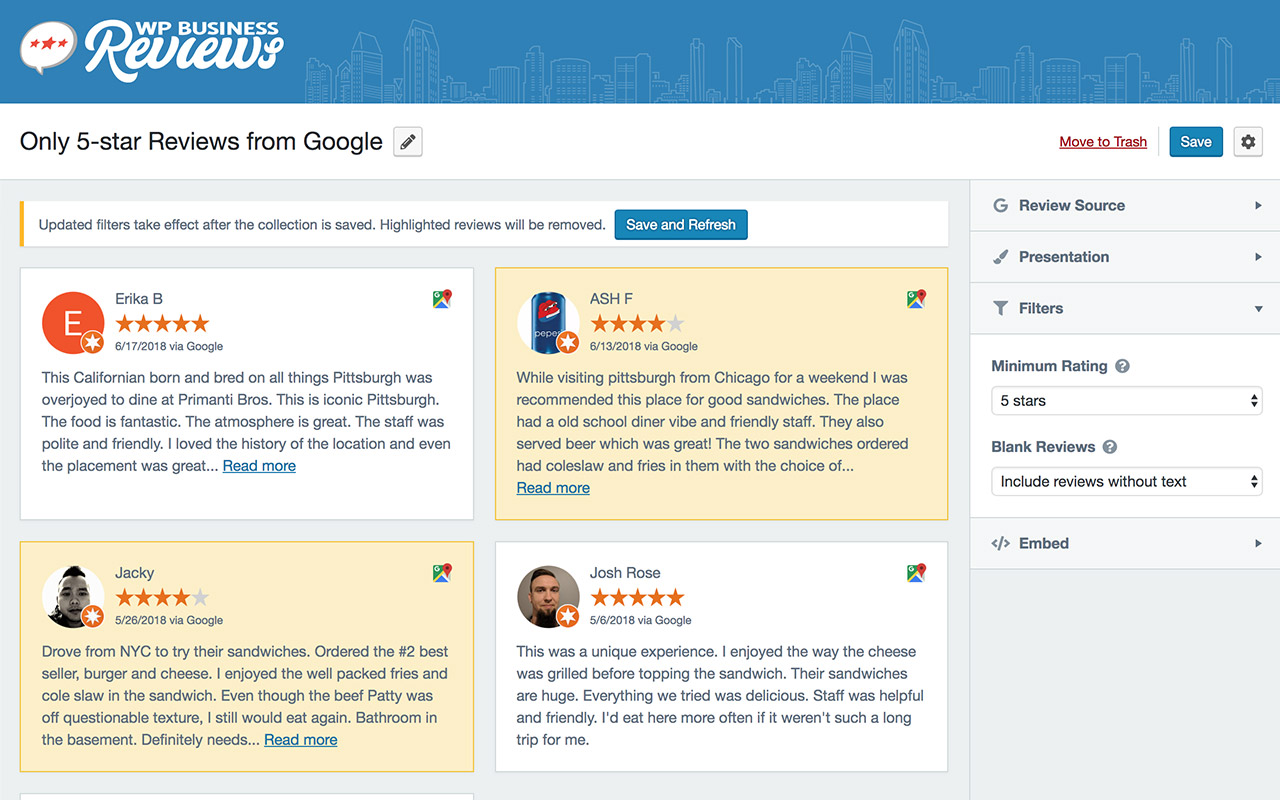 Add Your Own Custom Reviews
In addition to displaying reviews from popular platforms like Google, Facebook, and Yelp, you can manually add custom reviews so no feedback is left behind!
Embed Reviews Anywhere
Gain control over where your reviews are displayed on your WordPress website. We've included easy-to-use widgets and an intuitive shortcode builder.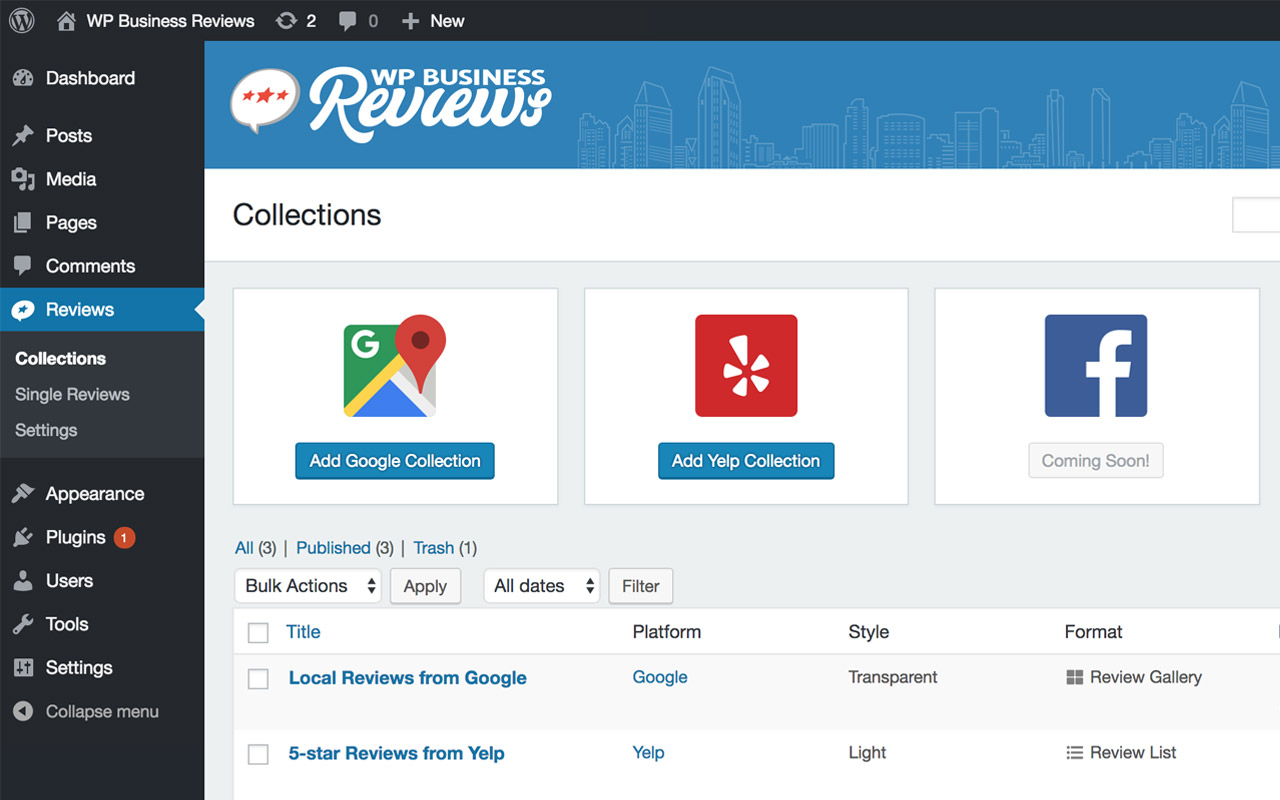 Plans & Pricing
Any size business can benefit from our business review plugin. No matter what level you're at, we have a plan that's right for your budget.
1 Site
Introductory Special - $20 Off
1 Site License
1 Year of Updates
All Review Platforms
All Presentation Styles
Add-Your-Own Custom Reviews
Negative Review Filters
Responsive Support
5 Sites
Introductory Special - $20 Off
5 Site Licenses
1 Year of Updates
All Review Platforms
All Presentation Styles
Add-Your-Own Custom Reviews
Negative Review Filters
Priority Support
Most Popular
6+ Sites
For Agencies & Developers
6 or More Site Licenses
1 Year of Updates
All Review Platforms
All Presentation Styles
Add-Your-Own Custom Reviews
Negative Review Filters
Priority Support
Platforms
The most robust WordPress review plugin available, WP Business Reviews supports the most prevalent review platforms right out of the box. We've included Google, Facebook, Yelp, and Yellow Pages, with many more coming in the near future.
Google Reviews

Google leads the way in SEO, so it's only natural that reviews from Google help provide a boost in your local SEO rankings. Boost your SEO and provide consumers with social proof straight from their local community by displaying your reviews from Google.

Facebook Reviews

Facebook is one of the fastest growing social media platforms around. Recently they've ramped up their review platform so now all pages can be reviewed. Display your reviews from the world's more popular network right on your WordPress website.

Yelp Reviews

Yelp helped to pave the way for word-of-mouth marketing and remains one of the most popular review platforms around. Great Yelp reviews can positively impact purchasing decisions, especially with restaurants and other service-based businesses.

YP Reviews

Yellow Pages adapted to the modern era with online reviews. Its heyday is not over! YP remains a reputable and popular brand, especially among the baby boomer generation. Displaying reviews from YP will help engage a broader audience online.
More Platforms Coming Soon!